These 127 photographs were taken over a month, living in Ubud in the mountains of Bali during 2011. Probably the best way to access these is to search with the following terms:
kcrbali2011 – this will display the whole 127 over three pages.
balimonkey – most shots taken in Monkey Forest, but one when our apartment was raided by a troop of monkeys.
balirice – we were living right on rice-growing paddy fields.
baliflower – some of Bali's magnificent flowers.
balipeople – the beautiful people of Bali.
balidesign – various elements of design around Bali.
balisky – clouds, sunsets etc.
balimultiple – a number of photos in the one composition.
balianimal – animals other than monkeys.
baliwhimsical – things that appealed to my sense of humour.
I hope you find the time to view some of these. Please leave a message or two on the ones you most enjoy.
Thanks for reading, Keith Richardson
Here are some typical screen shots you should achieve as a result of these searches:
Animals of Bali:


Balinese Design


Flowers of Bali


Monkey Magic in Bali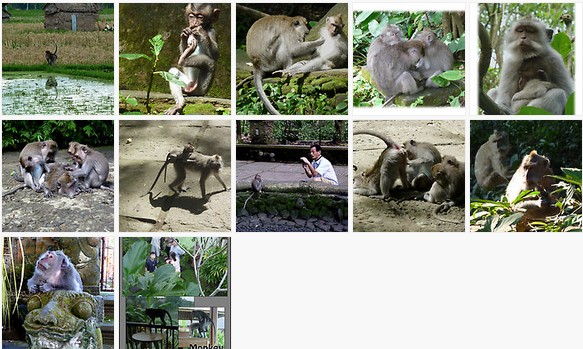 Multiple Images of Bali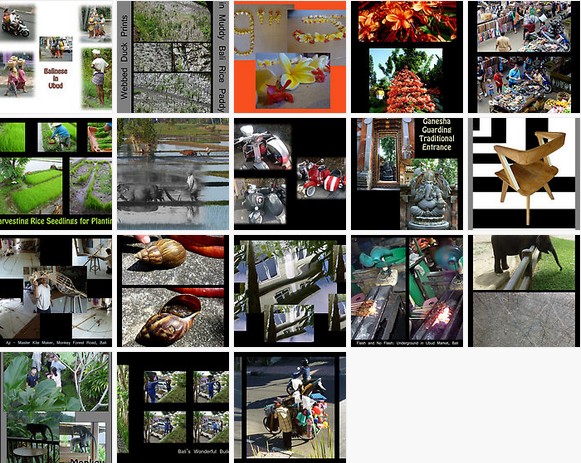 The People of Bali


Rice Growing in Bali


The Skies of Bali



Whimsical Views of Bali


The Complete Set of 127 Photographs of Bali.