A calligraphy work I penned of a poem that I wrote in the 1970's thinking of my great grandmother, Mariah Kempton. She was half Oglala Sioux, educated in Mass., and raised five boys on a cattle ranch outside Terry Montana in the 1800's. Her sons and grandsons were declared "Indian" on their birth certificates. In every notation in history books of the county, she was called "Mrs. Kempton, Indian." She was called upon for herbal remedies for injuries and illnesses by neighbors. She was the subject of several photos by Evelyn Cameron, an early (1900)photographer in Montana.
This drawing is of her sister, Mary, holding my dad on her back. click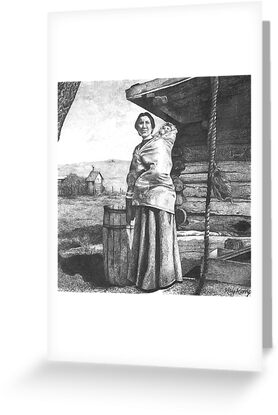 Grandmother
When newness filled her walk
And buttercups more than
Snow-covered dreams, she was
Long and thin as the lodge
Pole pines she swung high
To make the framework
of her days. Weight of years
and pull from Mother Earth
has bowed the black-wrapped
legs. Her shape peared
as shoulders gave their square
to slope. The tracks through
her leathered face aim toward
the ground.
But, around the eyes
burst the rays of the Sun
in all directions
when she smiles.
The tears that lay in basined
lids reflect
two worlds.
Kay Kempton Raade