Click to view larger
Featured in the following groups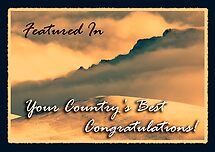 Heritage Listed and other Trusts sites
Had a hairbrained idea last night for a sunrise shoot up at the beautiful little coastal mining town of Catherine Hill Bay (about an hour and half north of Sydney CBD), so got up at 3.30am and headed up the F3 to what the locals call Catho.
Coal mining started in Catho back in 1865, and the jetty was built to help transport the coal to the awaiting tankers. And I have heard that the jetty does "groan" in an incoming hide tide or in rough seas, either way she is a beautiful structure (well I think anyway)
If you are viewing this I hope you like it.
Location: Catherine Hill Bay Beach, NSW, Australia
Taken with a Canon EOS 60D, 18-55mm lens, ND400 filter (F4.5, ISO-400, 120 sec exposure) and processed in CS5