This shot brings back tender memories of a beautiful trip to the Outer Hebrides.
Taken on a warm June evening, sitting on the shore near the Polochar Inn, South Uist. A great place for a meal or even better stay over night. Friendly staff, cosy bar, delicious food and wonderful views. What more can you want, especially if you can enjoy a sunset like this over the Atlantic out towards the isle of Barra and beyond?
Location: Polachar, South Uist, Outer Hebrides, Scotland, UK.
Nikon D200, Sigma 18-200mm, f/13 -0.7 stops, 1/10s, ISO 100, 34 mm, tripod. No post-pro.
Please view larger and sit back and enjoy this beautiful though sad traditional song sung by Julie Fowlis, who is from North Uist, just a few miles up the island chain from this location.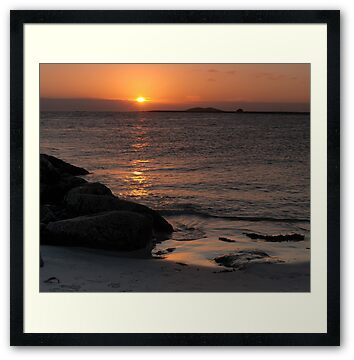 A shot of the nearby "Standing Stone"