This plant is commonly known as a Sago Palm or Fern Palm, although it is neither a fern nor a palm but a Cycas Revoluta.
Location: Puerto San Juan, Tenerife, Canary Islands, Spain.
Nikon D200, Sigma 18-200mm. Captured in RAW. Post-pro adjustments in CS2.
Featured in Bubble Jeopardy and in Artists Universe
27.01.2013, 798 views.
Unfortunately, I didn't think to take a shot of the whole plant but here is one of the prongs in the heart of the plant:

>>>>>
Solved by Pix-Elation after about 15 guesses! Congratulations! He wins the prize – which means I will purchase one of his cards:-)
>>>>>
I'll purchase a card from the first person who is right or from the person who is closest on 16th April!
I'll add clues every day if anyone is interested in playing along:-)
31.03.2010:
I was fascinated by a plant I noticed on a photo trip during a vacation on Tenerife.
01.04.2010
Basia guessed that "They looks like the prongs of a fern."
She's getting warm.
02.04.2010
This is a tropical and subtropical plant but it is not a fern although the green leaves uncoil as they do.
Here is a shot of the leaves at an earlier stage:


The heart – just visible at the top of the above shot continues to develop like this before developing into the fern-like prongs at their next stage: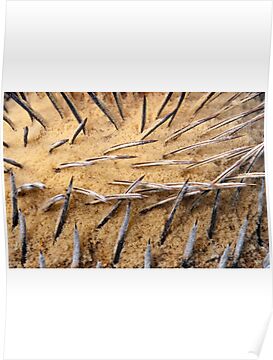 03.04.2010
This is a larger view of the heart of the plant before those prongs develop. The prongs develop further into a larger leaf.

04.04.2010
We're getting close!
Pix-elation suggested that it is some kind of palm.
It's common name does contain the word "palm" although it is not of the palm family.