There you were in your purple sing song dress
and your yuequin joining in with it's perfect tones
the vibrations of your voice against the thin light
of the moon throws blue shadows down
like ink deposits fraternising with the brown earth
who are you with your night song and your pretty
unearthly sweetness, miss songstress of the deepest
you charm our inner worlds with your tender
strumming and your eloquent brand of poetics
under the lunar sky so frequented with stars…
and as you sing, I notice a tiny bird shiver and
a little heart quiver, their solitudinal states
at one for now, brought together by the lucid
lovingness of your kind motion and when the
earth meets the sky and the sea bows to the
sun, we shall all be one again under the blanket
that comforts us all. Yearning as we do for
that one thing, that is treasured above all,
love. Love in it's purest form creates visions
that are far brighter than any romantic gesture.
Love in it's purest state divine free from all
motive and measure. It is within, it is without
we need only let go of all our intentions and
wear love as a garment.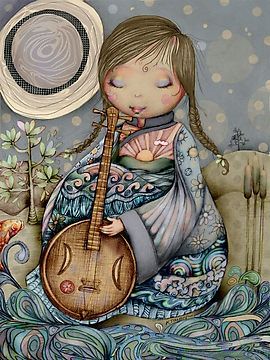 Moon Guitar by Karin Taylor