aloha and welcome! f you like this elephant tshirt you might like my other elephant tshirts here
See my full art portfolio here
Follow my blog click here
Follow me on Facebook click here
Follow me on Twitter click here
Preview my book Beyond the Stick Figure click here
Visit my youtube videos to see my paintings progress from start to finish click here
Listen to Paper Boats song collaboration with Silkwinders (my lyrics/les king music, guitar, vocals/andrea webster – video and vocals) produced recorded by les king aka uncleblack of treetops records click here
I can be contacted any time via email karinlouisetaylor@gmail.com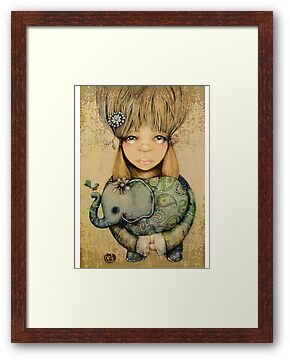 Welcome to my world in pictures
…to touch a heart, to spin a dream, to share a thought, a love, a special memory..these are the things that make life meaningful….connecting through eyes, which i paint into the girls or the creatures I create like "The Love Bird" above…making that connection is everything for me
.. . . . . .
somewhere in the wilds of a far off magical place, dwells a young girl child from a tribe that understands the elephants' language
the little bird is a messenger from this world to hers, he brings me word of her when sleep is troubled and sends the comfort of birdsong
. . . . . . . .
elephant child began as a pencil drawing in my visual art diary (about A3 size) photographed, uploaded and painted in Photoshop using my wacom tablet and pen