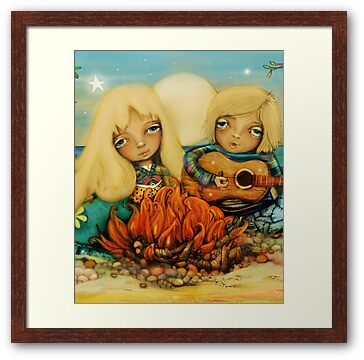 framed print, also available as postcards, greeting cards, framed prints, canvas prints, poster, matted or laminated prints
… … …
A campfire is a fire that serves as light, warmth, a beacon, a bug and/or apex predator deterrent, to cook, and for a psychological sense of security. In established campgrounds they are usually in a fire ring for safety.
… … …
Most campfires are lit exclusively for recreation, often as a venue for conversation, storytelling; or song. (from wikipedia)
… … …
I thought for a while, what would be an image that I would just love for myself, what would touch me more than any other image, what would remind me of happy times in my life, what is it that represents those feelings and that would be the laid back coastal lifestyle. Since we were young, we would dream of living on an island with our friends, and indeed I did spend time on an uninhabited island twice in my life and it was incredible
… … …
The other part is I really love to just sit around an open fire and toast marshmallows and when someone brings out a guitar or a firestick to twirl, even better (my sister Missy is an excellent fire twirler) and the telling of stories, and genuine feeling of brotherhood….that happens around the campfire…it's a feelgood sensation and a nostalgic idea….and the other part is just being with someone you love, right near the ocean…i think you can be really happy when all these elements are combined…and even just thinking about it, makes me feel happy…..i was pleased I was able to extract the idea from my mind, and bring it to life in a little colour painting. I hope you like it. :)
… … …
I drew this image on paper in my sketch book (A3) and took a photo of it, coloured it in Photoshop with my wacom tablet and pen.
…. … …