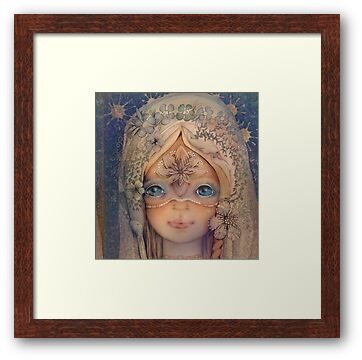 In folklore, selkies are mythological creatures, seals who can shed their skin to become human
…from wikipedia The legend apparently originated on the Orkney and Shetland Islands, where selch or selk(ie) is the Scots word for seal (from Old English seolh).
Selkies are able to become human by taking off their seal skins, and can return to seal form by putting it back on. Stories concerning selkies are generally romantic tragedies. Sometimes the human will not know that their lover is a selkie, and wakes to find them gone. Other times the human will hide the selkie's skin, thus preventing them from returning to seal form. A selkie can only make contact with one particular human for a short amount of time before they must return to the sea. Examples of such stories are the ballad, The Great Silkie of Sule Skerry, the movie The Secret of Roan Inish and Ondine.
Thank you for taking time to view my work!! I really appreciate it!
about The Selkie Princess
Originally a pencil drawing (mechanical pencil on acid free sketch) I've photographed the original drawing and painted it using my Wacom Tablet and Photoshop CS4…there are lots of layers and one additional brush used from Crackle Burn
The Selkie Princess has things of the sea hidden in her hair, an octopus or squid, a whale and a dolphin and seaweed
The letter 'K' (signature) is brought to you by my dear friend raindogs who created it specially as a gift, I proudly add the 'K' to my art, as the signature on my works which to me symbolises my friendship with raindogs and all my friends here on redbubble in the spirit of collaboration and community