Elephant Dreams by karin
Digital Collage
best viewed large – just click on the image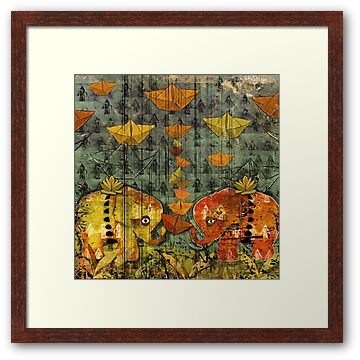 Two little elephants, resplendant in colourful body paint and lotus accessories tied around their middles, but what are they doing?
….they are dreaming of sailing away together in an origami boat, i know i know! …elephants are waaaaay too heavy for paper boats…but this is
just make believe after all :) …it might even be
their wedding day for all we know! it does look
a bit like a ceremony. Anyone else care to take
a guess at what's happening here…..? feel free..
about the process
this was such an interesting and fun piece to work on
the background
each of the houses is a small photograph of a house design in relief, made my sticking matches into wet gesso (thick acrylic paint) and I've joined about 50 pieces together
the elephants
i worked in layers, layer upon layer creating the elephants first…then i did a cut out of the first ellie using the houses and reversing the colours .. i drew the lotus flower and everything actually with a wacom tablet and pen in PS4
the origami boats
I drew these separately and left some spare, some coloured…the leaves are borrowed from a previous digital collage I did recently… the textures are some of my own from old books, others from crackle burn.
Just a guess, these might make nice wedding, valentines day or anniversary gifts, the design is available for sale as greeting cards, matted prints, postcards, laminated prints, mounted prints, canvas prints, framed prints and posters