Celebrating my 1st sale of this design, thank you so much for your suppport!!

Springtime, children, drawing, eyes, birthday, sweet, cute, kids, gifts, girls, karin taylor, painting, portrait, art, prints, cards, canvas, special occasions
*

##MY SOLO EXHIBITION IS ON RIGHT NOW!!!
PLEASE JOIN ME OVER HERE

Join me at Karin Taylor's Solo Exhibition, 'Braids, Birds, and Blossoms'
best viewed large (click on image above)

d e t a i l o f f a c e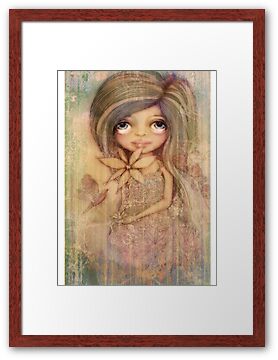 Springtime is a drawing I created in my A2 sketch pad on acid free paper, using a mechanical pencil and one of those erasers that look like blue putty…handy things they are :)
After I drew Springtime, I took a photo of this little girl, and uploaded her to my computer. Once she was there, I saved the file and began working to colour her in layers using a software program called Photoshop CS4. I used both a mouse, and a pen tablet (Wacom Intuos4) which makes things a lot easier when you're painting digitally…but sometimes a mouse is good to work with too. It's nice to interchange them and it gives the arm a little rest. These images take quite a few hours to paint.
At one stage I cried, pulled my hair, spat the dummy, despaired and thought my art career was over with, as it's been too long since i drew and painted, and it can take a while to get back into the swing of things. But after a good night's sleep I was able to come back to it with a better attitude and found a way to make it look how i wanted….sleeping on it gave me a better perspective. Something for me to remember next time I get this frustrated again.
I'm extremely happy with this now, and from the way I was behaving yesterday, you'd have a hard time believing that…i thought I was at the end of the road…I guess many artists can relate to having moments like these LOL