oooh I am so excited to be celebrating my very 1st ever sale of this design, i created it some time ago, and it's one of my favourites – thank you so much to all and especially my customers for your wonderful support!
see more of my art, click below


artist, clouds, gifts, girls, happy, i painted a cloud so the sun could shine thru, lighthouse, painting, uplifting
*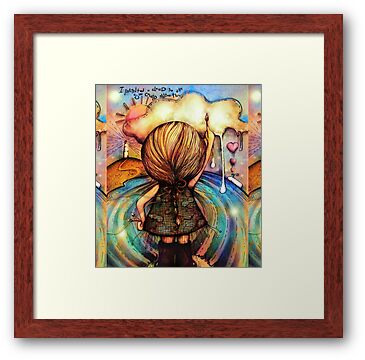 I drew this little drawing in my sketchbook yesterday, with a pencil, markers and charcoal, after many failed attempts to draw a face, i turned the girl around and came up with this little uplifting girl. She has climbed to the very top of a mountain and is striving to make everyone's day a little happier…by painting a cloud up in the sky, just so the sun can shine thru..i hope you find it uplifting! I coloured her today, digitally…most of my works are taking about 2 days to complete, half to full day of drawing, then another day to day and a half for the painting process.
listening to Fireflies You Raise Me Up
hopefully some of those happy, magical, hopeful vibes will come through the painting and make you smile :)
The Paintbrush and the Soul is a beautiful poem created by the lovely Julie Langford (aka Go Wabbit – Creative) for Redbubble's Postcard Poetry Activity and we have collaborated so that I've provided my image to Julie I painted a cloud so the sun could shine thru
The Paintbrush and the Soul
by "Julie Langford
my love for you can be thought of as my creativity
if your being is a canvas, then my paintbrush is
the medium that will forever capture your heart
placed down, irrevocably and permanently in oily captivity
you are every stroke of my Art
your veins carry the inspiration behind my creative vision
driving on my sharpened desire to sketch out your essence
I mix my palette with all the colour of you
to capture in full, your luminescence
the portrait I paint will reveal now, and forever
how a magnetism and flawless control
will become as one and and work together
to unite the paintbrush and the soul
and here below are the combined works titled The Paintbrush and the Soul This is the work which Julie did to put the image together with her beautiful words for the postcard challenge we hope you like it:
thank you so much Julie for the honour of sharing space with you on this postcard collaboration!! Please visit Go Wabbit – Creative to see more of her beautiful work