6 sales of this design, thank you!
birds, drawing, family, gifts, karin taylor, painting, radiant owls, vibrant
*

##MY SOLO EXHIBITION IS ON RIGHT NOW!!!
PLEASE JOIN ME OVER HERE

Join me at Karin Taylor's Solo Exhibition, 'Braids, Birds, and Blossoms'
4 sales so far !! – thank you so much!!! :)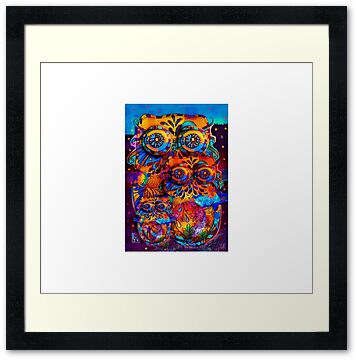 Mix Media (incl) Love, Magic, Human Tears, Happiness, Paper, Candle Wax, Blue Pastel, Orange Pastel, Yellow Pastel, White Chalk, Black Ink, Digital Paint and black felt tipped pen
Radiant Owls are night owls like me, but these ones are very special. Are you a night owl too? They glow in the dark, and they emit a very positive form of energy and have transparent tummies (with clouds in them, they eat clouds to make the stars shine on dark nights, and it helps with their digestion perhaps)….they always need filling up on bugs n stuff, but they must be magical bugs n stuff (okay :)…that's what gives them their glorious feathers. Also you know, their feather colours can change at any time so they blend in with the environment, they are very eco conscious. So if you see a radiant owl, you will start to feel warm inside and sure about yourself, and then quite charming… you can accomplish just about anything with a Radiant Owl by your side….but I hope you have a supply of magic bugs and glow worms…they can get very hungry sometimes! Get ready and cosy up….here's the story….
as the story goes, once upon a time, the Radiant Owl family were plushies (stuffed toys) and the little boys and girls loved them so much, they would hug them and hold them whenever they were sad and many of their tears fell on the little owls…human tears are very powerful things, and the tears of the boys and girls made the owls come to life, now they come to visit people everywhere, when the stars are high in the sky…so watch out for them sprinkling their magic….when you close your eyes at night, an owl blinks to let Heaven know that everything's alright.
Love and light,
karin x