Prints & Cards of Arwen are also available here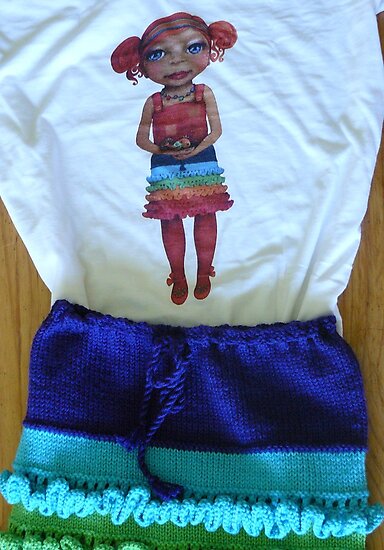 A collaboration with Christine – this is a real skirt!!! on a hand drawn model, i hope you like…it's the roaring 20's flapper vintage version, of the design below, to see the process, etc, read on…this skirt is designed by Chris and will be for sale available as patterns for knitters in early January, this design will be on the front of the patterns. let me know if you are interested in ordering a pattern and i'll pass on your details to Chris
\
sales of this design – 2 so far, thank you Chris!!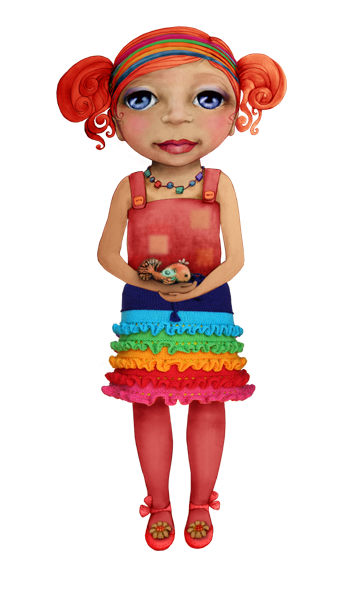 a special project, this took 15 hours to complete from start to fin. it began as a pencil drawing and a photograph of a skirt and was in 3 parts which i put all together… see below: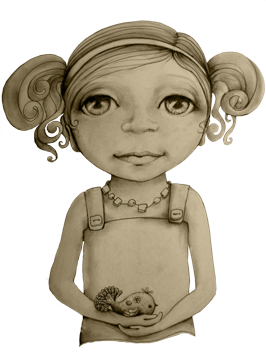 Top half of Arwen (pencil drawing)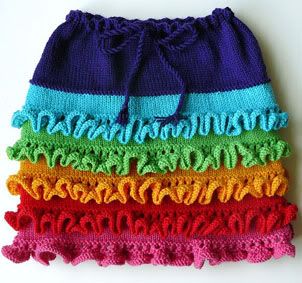 Arwen Skirt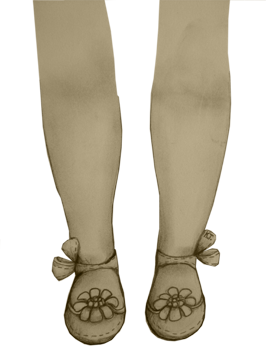 Bottom half of Arwen
oh yes! i forgot to mention the background is an old rusty tin (a photo) which i found in an opshop..i loved it to bits and finally found a use for it! it forms the basis for the background and the matt Arwen is standing on too
The skirt in this image is a real skirt!
See it here and gasp what a gorgeous beauty, and it was not only made by my friend Christine Jones but it was DESIGNED by her. Chris is currently completing a course in the UK to enhance her knit design skills, it's very intensive and she always wanted to be able to create her own designs, finally, she's come up with not just one, but another beautiful Flamenco wrap knitted and designed by Chris with eco friendly yarns, was recently featured on the front page of YARN Magazine
Chris has asked me to create girls to 'wear' her real designs once she has created them, so that she can put the designs on the front of her patterns and sell to other knitters.
This arwen design she's come up with in rainbow colours has got to be the cutest thing I've ever seen, I'm so proud of my friend.
I have recoloured Arwen and reimagined her in a vintage 1920's style art deco scene as a little Charleston dancer/flapper …. the skirt seems to easily translate into the fashion of that time… one day Chris hopes to also create an adult version of the skirt with pattern… wouldn't that be cool.
Chris is a wiz with all things textile and fibre, and i recently visited her place for a Sunday garage sale and came home with more than i intended .. a beautiful huge felted bag, gorgeous Cloth, Scissors, Paper mags, tools and equipment for stamping, so inspiring! Thank you Chris!
I will keep you posted. Please email/bmail me if you would be interested in a copy of Chris's patter for the skirt, it's at this stage for girl's but if you are interested in it as a big girl pattern for ladies, please let me know and I'll pass on your interest to Chris to spur her on into making the adult one and creating a pattern for it also.
Chris can probably take orders if you'd like me to pass on your details, she hopes the pattern to go on sale early January, she just has other test knitters all over the world working on the pattern to ensure it all turns out beautifully.
……
and something a bit different for you 500 coloured pencils enjoy the creative journey…..
…..
Christine's handmade one off textile garments available for sale on etsy
http://www.etsy.com/shop/yarnaboutyarn
yarnaboutyarn Christine's website link
http://www.yarnaboutyarn.com/
Christine's blog
http://www.yarnaboutyarn.blogspot.com/
Christine's cards and prints available for sale on redbubble
http://www.redbubble.com/people/christinejones