Featured in Australian Artist Dec '09
This entry came a cool 2nd in the Top Ten of the Happy Challenge a collaboration with Red Bubble and Stefan Sagmeister, I would like to thank all those that voted for my entry in the challenge, I am absolutely thrilled and it is the creative highlight of my year!


Original Drawing version here
Click here to vote for my entry in the HAPPY CHALLENGE – OR go to the Happy Challenge gallery and check out all the other wonderful entries and great art…. vote for the entry you love!!!
My spiritual self portrait, entered into the Happy Challenge now I've cropped to fit the template
I am today a 10/10 on the Happiness Scale

Here is the design in all it's fullness, i think there are 164 affirmations there in total.
This self portrait is purely spiritual. This bears no resemblance to me on the outside…..but it's who I am on the inside.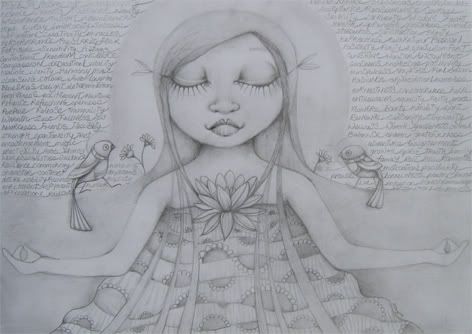 the original drawing prior to digital colouring
The Affirmations
peace, joy, prosper, love tranquility, respect, kindness, tolerance, beauty, forebearance, insight, abundance, hope, energy, generosity, success, inspiration, creativity, miracles, perserverance, popularity, flair, fortitude, sensitivity, pizzazz, contentment, freedom, confidence, compassion, dedication, vitality, healing, clarity, harmony, music, cleansing, colour awe, laughter, blue skies, delight determination, forgiveness, excitement, nurture, patience, refreshing, openness, purpose, release, warmth, zest, fullness, new awareness, friends, flexibility, strength, spontaneity, trust, encouragement, magic, practicality, hugs, whimsy, new possibilities, guidance, resilience, community, honour, character, contrast, daydreams, desire, nobility, fullness, simplicity, enrichment, enjoyment, humour, affirmation, rainbows, perserverance, blessings, understanding, acceptance, reassurance, courage, serenity, longevity, wisdom, heart, health happiness, goodness, friends, steadiness, satisfaction, plenty, refreshing, relaxation, passion, possitivity, purity, loyalty, comfort, sunshine, wonder, enjoyment, goodness, knowledge, positivity, mindfulness, voyages, fun, calm, radiance, appreciation, awareness, earnestness, consciousness, help, enthusiasm, equality, fatith, grace, flowers, bounty, humility, light, renewal, sincerity, simplicity, wellness, worth, gentleness, centred, balance, charm, gratefulness, adventure, enlightment, growth, spirit, truth, humility, family, rest, bliss, romance, motivation, positivity, praise, loveliness, poetry, favour, life, intuition, honesty, acknowledgement, recognition, tenderness