affirmation, gifts, girl, karin taylor, lotus, meditation, prayer, purple, relaxation
*
sales of this design so far – 7 sales, thank you!!!
*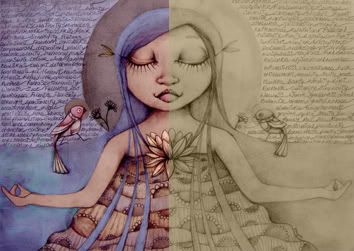 image showing the drawing half painted, thank you to my friend and fellow bubbler gottheshot for the great idea!


Original Drawing version here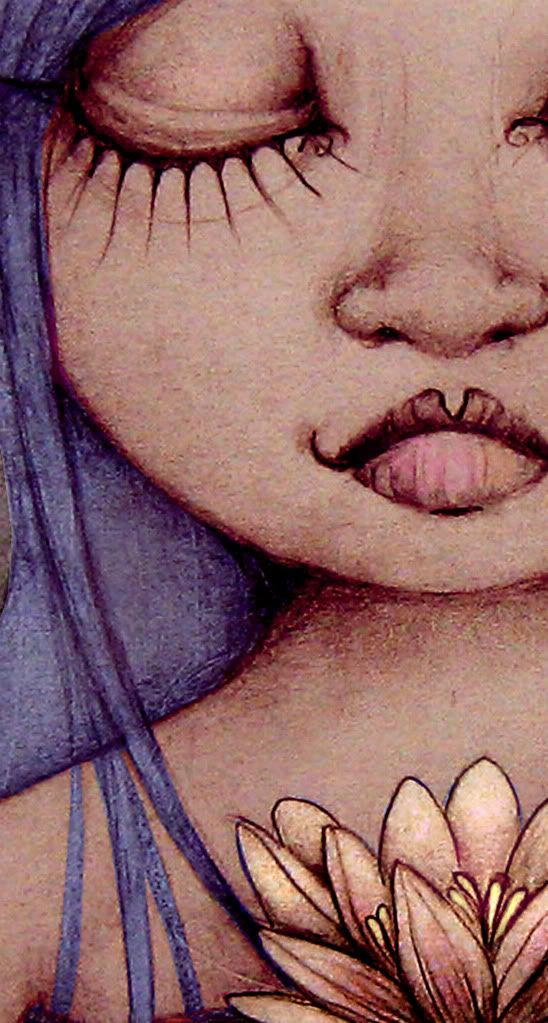 detail

My spiritual self portrait, this will be entered into the Happy Challenge once cropped to fit the template
I think there are around 164 affirmations in all here… i thought of every single word and hope and dream i could

Here is the cropped version i created to fit the template, and it's now been entered in the Happy Project Challenge
I have been affirmed today by my sister Missy…. the importance of this cannot be estimated… I believe… I believe…I am today a 10/10 on the Happiness Scale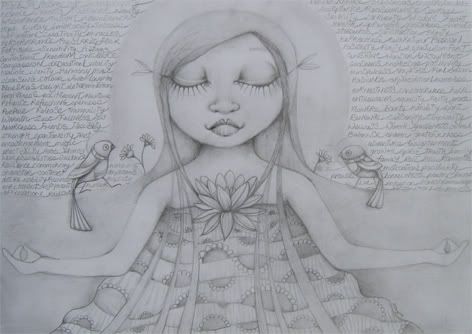 original pencil drawing (was later coloured digitally)
This is for you…Missy, my affirmation of you… I love you, I love my family, I love my friends here on Red Bubble and elsewhere, I love all the staff…..this is my thank you…. all these wishes I wish for you, all these affirmations are my heart for you… my prayer for you, be bold, be strong…. perservere, be you cos i want you all to know that I see the Light Surrounding You and I thank the ones who've been there to Watch Over Me you know well who you are :)
This self portrait is purely spiritual. This bears no resemblance to me on the outside…..but it's who I am on the inside.
Affirmation by Savage Garden
Savage Garden
I believe the sun should never set upon an argument
I believe we place our happiness in other people's hands
I believe that junk food tastes so good because it's bad for you
I believe your parents did the best job they knew how to do
I believe that beauty magazines promote low self esteem
I believe I'm loved when I'm completely by myself alone
I believe in Karma what you give is what you get returned
I believe you can't appreciate real love until you've been burned
I believe the grass is no more greener on the other side
I believe you don't know what you've got until you say goodbye
I believe you can't control or choose your sexuality
I believe that trust is more important than monogamy
I believe your most attractive features are your heart and soul
I believe that family is worth more than money or gold
I believe the struggle for financial freedom is unfair
I believe the only ones who disagree are millionaires
I believe in Karma what you give is what you get returned
I believe you can't appreciate real love until you've been burned
I believe the grass is no more greener on the other side
I believe you don't know what you've got until you say goodbye
I believe forgiveness is the key to your own happiness
I believe that wedded bliss negates the need to be undressed
I believe that God does not endorse TV evangelists
I believe in love surviving death into eternity
I believe in Karma what you give is what you get returned
I believe you can't appreciate real love until you've been burned
I believe the grass is no more greener on the other side
I believe you don't know what you've got until you say goodbye
The Affirmations
peace, joy, prosper, love tranquility, respect, kindness, tolerance, beauty, forebearance, insight, abundance, hope, energy, generosity, success, inspiration, creativity, miracles, perserverance, popularity, flair, fortitude, sensitivity, pizzazz, contentment, freedom, confidence, compassion, dedication, vitality, healing, clarity, harmony, music, cleansing, colour awe, laughter, blue skies, delight determination, forgiveness, excitement, nurture, patience, refreshing, openness, purpose, release, warmth, zest, fullness, new awareness, friends, flexibility, strength, spontaneity, trust, encouragement, magic, practicality, hugs, whimsy, new possibilities, guidance, resilience, community, honour, character, contrast, daydreams, desire, nobility, fullness, simplicity, enrichment, enjoyment, humour, affirmation, rainbows, perserverance, blessings, understanding, acceptance, reassurance, courage, serenity, longevity, wisdom, heart, health happiness, goodness, friends, steadiness, satisfaction, plenty, refreshing, relaxation, passion, possitivity, purity, loyalty, comfort, sunshine, wonder, enjoyment, goodness, knowledge, positivity, mindfulness, voyages, fun, calm, radiance, appreciation, awareness, earnestness, consciousness, help, enthusiasm, equality, fatith, grace, flowers, bounty, humility, light, renewal, sincerity, simplicity, wellness, worth, gentleness, centred, balance, charm, gratefulness, adventure, enlightment, growth, spirit, truth, humility, family, rest, bliss, romance, motivation, positivity, praise, loveliness, poetry, favour, life, intuition, honesty, acknowledgement, recognition, tenderness