Tree Hugs is a cute Christmas card or print, available from my redbubble store, click on the link below to see more product previews and purchasing information.
I painted Tree Hugs after spending an afternoon at our local pub which has a little area out the back just like a back yard backing onto the bay. There, there are some huge pine trees, so enormous are the trunks that they must be 3 or 4 adults wide! I saw that day, one little girl with two other little friends, running around and around this tree, they were really taken with it, and trying to climb up it….the tree seemed to draw them close….maybe the tree wanted a hug?
It was so sweet that the image was etched in my mind for all time as a special moment, and I couldn't wait to get home and recreate the moment I saw the little girl in the big coat trying to do the impossible and climb that tree, her arms stretched wide in a big embrace.

children, christmas, forest, gifts, girls, karin taylor, kids, moon, tree hug, xmas
*
Sales of this design, 10 so far, thank you!!
*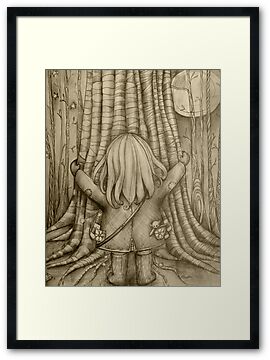 Tree Hugs drawing
by Karin Taylor

original drawing on A3 acid free cartridge paper
A drawing which has been digitally coloured, in which a little friend of the forest is overwhelmly touched by the beauty of a particular very old and majestic tree. She spontaneously expresses her love and gratitude with a symbolic hug, revealing her love for her surrounds during a moonlit walk.
Just the thing for friends, children, nursery, birthdays, special occasions and something a little different perhaps for an unusual Christmas card.