legend of little geisha, girls, karin taylor, legend of little geisha, paintings, drawings, tree, gifts, hair, art, kimono, fashion, story, sweet, children, kids
---

(Mocha timber frame/off white matt/medium size)

Greeting Card
hand drawn on paper
digital painting
Legend of Little Geisha
art and story by K Taylor (4/09)
In the village of Ishekawa by the Sea of Japan lived a poor couple who wove and carved for a living. The couple had no real possessions but were content with the beauty of the mountains and the sea surrounding them, and happy to be together.
The only thing they wished for and did not yet have, was a child to call their own.
One day, an ancient crone visited their home and as always, the couple offered their hospitality, gave her rice cakes and sake to warm her belly. The old crone, in return for their kindness, bestowed upon the couple the ability to have a girl child.
The child grew from a seed into a strong and beautiful young woman, glowing with pride and joy, she was the delight of Ishekawa by the Sea of Japan, and many young suitors came to visit and pay her homage.
But as is the way with old crones, you can never quite trust them to do you a favour without some twist in the tale. Unfortunately, the seed from which the child grew, began to sprout roots, and she was bound to the earth.
In time the beautiful young girl became a majestic tree and all the birds from near and far came to perch and nest in her branches, she gave them shelter from the wind and rain, and everyone who knew the legend realised the tree was actually the Little Geisha.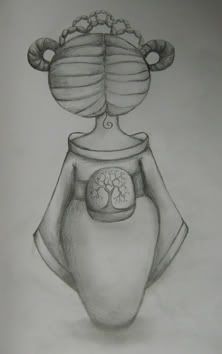 here's the drawing (above) prior to being digitally coloured