sales of this design – 3 sales so far, thank you!!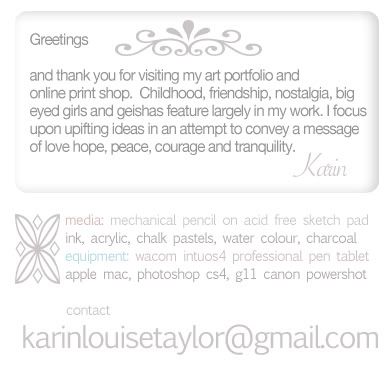 birthday, child, eyes, gifts, girls, karin taylor, mother, painting, portrait
*


framed print (walnut frame with off white matt)
I used a lot of media in this painting…..
chalk pastels, faber castelle black markers, charcoal, aquarelle watercolour crayons wet and dry, acrylics….on Canson canvas textured paper A2 size
it has been tweaked in photoshop to add brightness and contrast, etc.
It's from a series i've been wanting to get a start on for over a year, so this is the first one in the "Mothers and Daughters series"….I'm not sure if i'll do more or not yet…i hope to….just has to be when the inspiration comes though…. I worked on this til 4am this morning …. oops!
I hope you like it anyway, there is a sombre mood about it I guess, but not necessarily dark or negative….tears are healing, they really are……..