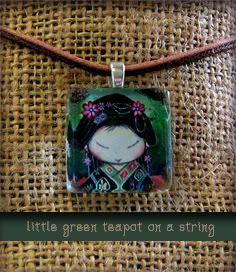 Little Green Teapot on a String – necklace available AU$20 plus postage
Little Green Teapot has been rehashed to allow her to come to you on coloured tshirts too!
Sales of this TShirt ? – 1 sale so far :)


Shoes available at Zazzle

Shoes available at Zazzle
if you have any enquiries please email karintaylor@exemail.com.au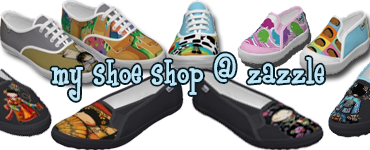 Please note there are now 6 versions of Little Green Teapot TShirt
a) the large design version here
b) the smaller 'inside a circle version' here
c) and finally the circle tshirt with flowers which can be on tshirt colours other
than black….here
d) There is also now the large design which can go on any colour
e) Additionally, we also have another large design called Little Multicolour Teapot which is more colourful
'Asia Series' card and prints by Karin Taylor
f) We also have a floral background print!! in prints, cards and a tshirt here
'Asia Series' card and prints by Karin Taylor
Little Green Teapot is a mixed media production on canvas textured paper using ink, pastel, acrylic and charcoal. She is loosely inspired by green tea and the japanese tea ceremony perfomed by the beautiful Geisha in Japan. Obviously, she is in training…not yet fully fledged.