The Indigo Elephant – here I am connecting a few ideas together with this sweet little Indigo Elephant, just what I've recently read about elephant cognition and what I've heard about the empathic telepathic children, called "crystal children" (sometimes linked to the autism spectrum) and/or indigo children well as "akasha animals'. The akasha term, a form of telephathic communication between humans and animals, the reference to indigo is about children who seem 'other worldly', are confident and gifted, and display telepathic abilities, etc.
There is a variation on this design also available here Elephant affection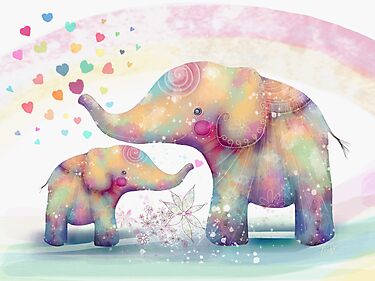 Elephants are incredible mammals with huge brains, they now believe the elephant to be one of the closest to humans, not unlike the apes and the dolphins who also have large brains. Elephants are empathic and altruistic beings as we are. They are intelligent creatures who have many times, protected and saved human beings. They mourn over their dead loved ones, and touch them tenderly. They devise solutions to problems and look out for one another when they get into any sort of trouble, they will work together singularly and as a community, to help one another. They bury their dead. They get depressed. They play. They show off. Baby elephants must learn behaviour and skills from their mother for many years, they are not born with instincts like some other animals. They are like humans in this way and must learn and be taught. The elephant is a truly inspiration animal, and I love them. I hope that comes through in my drawings and paintings, I hope you get a sense of that when you look at them and find them uplifting and inspirational too.
pencil drawing, painted in Procreate for iPad with stylus pen