A friend of mine and fellow artist Frannie Moore just asked me how i would answer someone wanting to determine their target market…what questions they should ask themselves and how to determine that…
Here in my journal and in the forum i've tried to articulate or give an answer from my own personal experience…. however reading the link below could also help a lot too:
but I'm an artist and marketing is lame by skinny artist (thanx to Deborah Milligan for giving me the heads up re this great blog)
I would say, okay, then let's together have a look at your art/photography and brainstorm a list of who we think would like your work, and please close your eyes and visualise where you see the work hanging and I will do the same….look at the images as a collective, and find the common thread that is running through them. If there is no common thread, we have a problem to solve, we have to work harder at finding the common thread, or develop the art more so we have a common thread running thru. Saying that you do a bit of this and a bit of that is a bit lacklustre and boring….you have to find a way to express that you're passionate about it and why…that's why finding the common thread is so important…is there something in it that you're really passionate about and can rave about….or explore further
for instance, when someone asks you what kind of work you do…can you answer quickly? if not, you need to discover what it is you're about and why you do what you do.
If someone asked me what i paint, i would immediately grab my iphone and show them….then I would define my work as girls with big eyes communicating a message of connection and hoping to raise feelings of nostalgia and goodwill. I haven't been able til now, to put what i do into words…i always fail when asked…but just looking around my art studio…i can see that this is what i do.
Until we know what we do, we can't market. You can't market what you do not know. And the thing is, we are already doing the stuff….but we need to know why and be able to articulate that.
Now that I know what it is that i do i also know who my target market is….bang…the door is opened!
children (nurseries, babies, teens, occupational therapists, doctor's surgeries, playgroups, illustrating)
parents (mums and dads, adoptive parents)
families
and i can grow and grow and grow those lists….. once i have those lists…i go door knocking. I gather more information, email addresses….and the art that i want to target….and i share that with those people who i think would or are most likely to love the work. I am lucky because at my age, i am connecting with kids, parents and families, so that naturally works for me….
the story is, that i was very envious of my little brother, he was the artist in my family…moreso than I….my father paints too. One day i got tired of being jealous and knew that i had an ability. But i didn't know how to overcome all the hurdles that life and art world presented me with. I decided ….how can i do what my brother is doing, he's so successfull painting whale and dolphin sealife murals and he's sought after and my parents talk about him all the time… but there's one thing he's doing that i'm not doing… what is it? (see i'm asking myself questions and using my brothers success as an example)
what is it that he is doing that I'm not doing?
the answer was, he'd developed a real style and it was recognizable and sought after by clients, he also markets himself without any problem…he's not shy about it at all
what should i do next?
the answer, develop your style karin…but i didn't not know how to or what to do….i went to the library, i researched online back in 2002….
I asked another questions
how do i develop my style?
the answer, i found out through reading and researching, was so simple…practice, practice, practice and more practice until it starts to emerge. I read all about big time artists like Ken Done, and others who i admired and those I didn't…i followed by example and determination…I set out to let nothing in this life beat me. I was determined… I still am. So it was, i set about developing my style. After 100 or so artworks, it began to emerge, and tho i didn't feel i had a style, people would say to me, i love your style i couldn't see it, so i wasn't convinced,….so for another couple of years, i continued to draw and paint and try different mediums…i was encouraged greatly by my support system at home and a tutor i had when i was 15, but i am pretty much self taught
what do you do now you have some art and developed a style?
find an outlet and share your art with the world…and your growth and your journey as an authentic artist…who has known joy and sorrow along the way, share your stories, your heart, and be open……learn from anything and everything…..regard everything that happens as your teacher, be a sponge…reject only things which destroy…..accept constructive criticism even tho it feels like your drowning….work hard to become better…never give up never give up….you can do it …….self talk…
what marketing strategies did i use to get myself into the face of the galleries and the offline world?
like all of you here, i tried some things, and some worked and some didn't…learning to articulate your art, and present it well and with professionalism is a key to you crossing over and them letting you in the front door, getting savvy about etiquette with galleries and knowing your rights, helps put you in a better position to talk the talk and walk the walk … don't go in there unsuspecting and sounding like you are new to this, but don't go in there blowing your own trumpet…you have to have respect for them, and they will for you…but have a quietitude and a good sense of knowledge about the system and how it works…….have artist statements ready…be ready at all times to answer those who will and do ask you questions…have your business cards at the ready always. don't be afraid to give people your cards….i often can't describe my work and i'll admit i'm having trouble, but here's a business card and i'd love if they could have a look online
I created a CD of my best works at the time, and categorised them and introduced myself to as many art galleries as i could that seemed aligned with my style of work… galleries by the sea, who specialised in oceanic art, as that's the stuff i was doing back then…my parents were impressed with the CD and asked if they could take some and promote me, and some business cards….i agreed surprised and happy they wanted to help and contribute to my life in this way…it was a very positive and productive thing…as they became more involved…we had more to discuss and this developed our relationship and it grew stronger. They introduced me to a local gallery and it was my first foray into things of this kind and very exciting…I got to know a curator and gallery director who's heart and soul and gentle manner impressed me, tho she could be clear and strong…she had a gentle manner with some authority…and i'd liked that very much about her, her determination and entreprenaurialism were attractive features and she was pretty young and just so hardworking. She was a good example for me to follow and i learned from her and another gallery director up the coast, what to do and what not to do, as well as an agent in Byron…and a stint with a couple of different art licencing agents, and some commissioned work….where the boundaries should be etc and that some people are out for a free ride on my back
…..
Target Markets
I would look very hard at my work or the work of another…..and figure out just who would like it….i would ask who's commented on it and whether they told you why they liked it…i would advise you to actually ask someone to go deeper, when they pass by and say …wow i really like that…..ask them what it is about the image they like so much….this will give you clues….they might range from colour through to emotion….are you a colourist, a therapist, what kind of artist are you, what kind of feelings do you like to give people…why? why do you do what you do? who are you seeking to impress…? ask yourself these questions…. then you can become the customer…this is where imaginary roleplay comes in.
…
visualising things is very important…not because you can magically make them come true, but if you can follow through a scenario to it's end point you can then 'endsee' (new word) whether this will result in a sale or not…i have made some very silly mistakes…i know now what not to do…but in person i become very nervous when selling my art, and so it helps to visualise the encounter…i did this with a gallery visit the other day, i visualised as much as i could our meeting…..and funnily enough, when i felt embarrassed and humiliated…i simply stood outside myself and congratulated myself for not turning red and not leaving and walking out in a huff…i comforted myself from outside….because i had visualised, although not expected what was going to happen….although this experience left me feeling humiliated…what i took from it, is that there is a great benefit thru visualising or roleplaying….and the outcome ended up better than it would have, if i had just reacted….but i was able to stay composed, civil and left with an air of grace, despite the difficult conversation…where i was being rejected. I wasn't actually expecting the rejection, because i had been invited to an interview..so it was a terrible let down…
…
So, my advice is always ask yourself a lot of questions about your art:
What is a familiar theme running through your work….colour? emotion? relaxation? calming, soothing, therapeutic qualities? abstract? figurative? nudes? tropical? oceanic? architectural?
In general who does this work appeal to? doctors, lawyers, families
Where do i see this hanging? in the local RSL, bowlo, corporate buidlings, accountants, solicitors officers, architects, hospitals, radiology departments, airports, daycare centres, doctor's surgeries, family homes, loungerooms, kitchens, bathrooms, health spas?
it's often very helpful to appoint a friend who is encouraging to be a sort of mentor…sometimes this happens naturally, sometimes you need to ask…. someone who you trust…don't ask someone who doesn't have your best interests at heart…and then together…sit down and write a list either together or separately, or people/organisations whom you think you work or style would appeal to. the biggest thing here is research, research, research and experience….and trying different things…and listen, listen, listen…and ask ask ask…questions of other people….you need to define what your work is about in order to market it. Find a soul in it, and find a way to make it live and breathe….use your own experience in life to add parallels and stories to your art and photography…to market it, often it helps to be able to share where the idea came from…often in art, i have found that my story is unknown even to me, but sometimes people ask …..or make suggestions as to how a work came into being….this has lead me to realise something…people want to know about the art, but they want to know how it's connected to you the artist…
wanna know why they wanna know?
because if it's important to you and you feel connected to it…they tend to understand it better and feel that connection….if you don't know why and don't feel connected to it…..it's hard for you to explain why … then others sense that as disconnection not only with the art, but with them…..and it's like hanging up the phone…i think you really have to become connected with your art and what you do….for it to flow in conversation or for you to be able to write about it…all these things take work.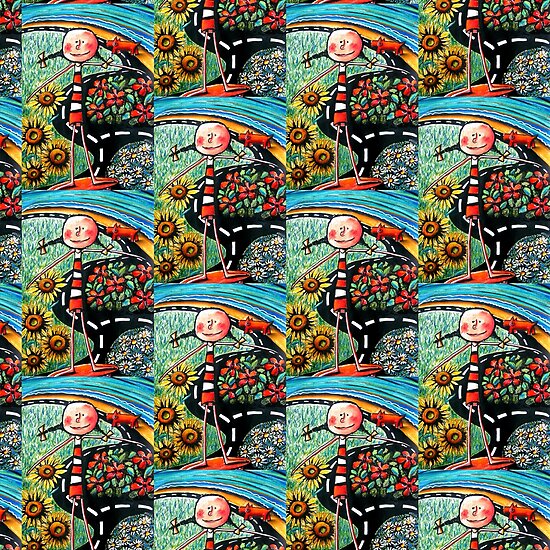 Where is Red Dog (or the Pilbara Wanderer)
_ 'Inspirational Series' card by Karin Taylor
Where is Red Dog is a mixed media production on canvas textured paper using ink, pastel, acrylic and charcoal. The original painting was inspired by the legend of 'Red Dog', aka 'The Pilbara Wanderer' of Western Australia. Red Dog was a loyal friend and stout companion to all who knew him. In this painting, the girl on the skateboard represents us in our search for love and acceptance and 'Red Dog' symbolises that quintessential spirit of the friend, whose love and acceptance we all yearn for.
I remember my agent in Byron once asked me to write about Red Dog…and because i'd read a book which inspired it…that was easy i thought….not so………i had to find within myself the reason i felt so inclined to actually do an artwork about red dog…..and in the end, i found out what that connection was…it was all about loyalty and community.
I am then about to articulate better about whey loyalty and community are really important things to me and why i take them so very seriously……and this helps me find a connection with the people i talk to…and while i'm doing that i'm developing my own humanity and understanding, growing as a person, and hopefully becoming a more interesting and likeable artist….. and i'm learning all the way as i go…..being energised by my supportive community as i go and giving back as i go.
I hope some of that helps…if you can navigate through the hodge podge of ideas above, and i thank my friend so much for asking me my thoughts…it feels great to share them with her and the community…
please know that this is simply my journey….you are free to disagree wholeheartedly with my way of doing things….and that is absolutely fine….it is just the way i've gone about it, and what i've learned through trial and error….i set out to be an artist….not to make an income….once i realised you can make an income, i was pleasantly surprised and touched by the beautiful personal stories and connections that come from living the life of an artist….and it just grows and gets better each and every day…i love the connections i make with people, artists and the ones that get something from my work…it all makes my life worthwhile
Here's another great journal created by Byron called How to Make Sales
if you made it thus far, thank you for listening :)
Thank you all for great contribution to my journal…it was faved something like 78 times with 513 visits in less than 24 hours, my 2nd most popular journal ever!
Please click here to go continue this discussion and more tips and advice in Selling Support and Discussion Group join the group to submit your thoughts and comments or read and take from whatever helps, click on Watch this Topic to be alerted of new posts
Marketing":http://www.redbubble.com/groups/sell-art-and-ts... where we now have an ongoing discussion regarding marketing art
Please don't hesitate to join us over in "Selling Support &
Due to the unexpected popularity of this subject yesterday, I've begun a new thread in another area of redbubble (in a group) so that people can further discuss this topic re Marketing Art in
where there are also other resources that may help you find your way with marketing ideas. Another place on redbubble where people can go are the
Sales and Marketing Forums and more specialised links for help with marketing from Jo O'Brien in
---