I am a Finnish hobby photographer and love all animals especially rats. I breed them and love to shoot them. It is a challeging thing because they are so fast! :D Some of my rats are real posers, though.

I like mushrooms, plants and flowers too. Macro pics interest me a lot. I have gotten better and am quite happy with most of my macro shots nowadays.

I have 2 dogs. The first one, Princess, is a 3,5 year old (by Oct 2012) Spanish rescue dog. She was found on the street all alone, skinny and sad when she was about one year old. She flew over to Finland on the 7 th of Feb 2010. She is the smartest, most beautiful, funniest and fastest lil dog I have ever experienced. Yeah, she is a real experience and the light of my life. I have no idea how someone could have ever dumped this living treasure.

My second dog is a bit over 2 years old Annie. She was abandoned at a Spanish killing station only at 7 months of age. I adopted her when she was 10 months old and she flew over on the 28th of April 2011. She was a handful, having no manners what so ever. She was not house broken and had no idea how to walk on a lead. I suppose someone had kept her in a cage or on a small balkony as she had this tail chasing manner and she was very very nervous.

Today, in Oct 2012, both dogs are doing superfine, Annie has learned everything and is the most wonderful pet there can be. I do agility with both my dogs and we perform on pet fairs and other events with dog activating games. :)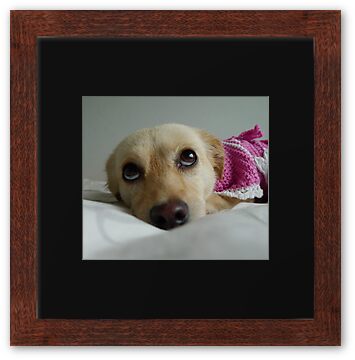 Ever since Princess came into my life I have been involved in rescuing and helping the dogs in the Spanish dog shelters. Unfotunately things are very bad for all kinds of animals (dogs, cats, horses, you name it) in Spain because they are totally worthless for most of the people. Basically stray dogs are worth less than trash. It is very heartbreaking, but I decided to make a difference and help.
I founded a charity in July 2011. It is called Dog Force One ry and our aim is to get people donating dog and cat food and gear, horse feed and tack, and then we'll send them over by a truck. It has started perfectly as we have send thousands of kilos of food and gear over in just one year. :)
Please guys, have a look at our charity at:
And find us on Facebook:
http://www.facebook.com/pages/Dog-Force-One-ry/...
My favourite rat artist here is Ellen van Deelen. Her rat photos are awsome!
…………………………………………………………………………
Challenge highlights:
1st Nov 2010, WINNER
The Sassy Looks Only, of your dog
by PETS NEED A HUG group