Waterfall
river of life
trail of tears
all join as one
flow to the sea
back to the center
to the beginning of time
join you and me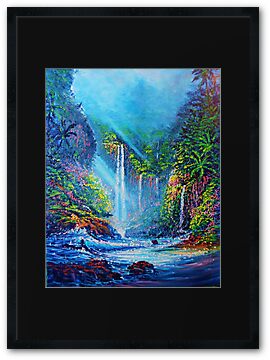 Waterfall (full version)
Down falls the River of Light
falls to such a beautiful sight
shimmers in dark pools around my feet
sparkles and cools
With such grace as only gravity can provide
It comes to touch me by my side
for a moment caress my soul
for a life time of joy I feel from you
my dear Waterfall
So cool sits your grace
falls fresh upon my face
So natural your touch
fills me with hope to
climb the up coming slope
that life might take me
to reach your peak.
The rewards I seek
is not in photographs I take
can not keep you there
Like I can here in my heart
Where once inside my soul
you can sparkle your energy and grow
together join the two of us
so close in the dark woods of the forest
we can see the river run
streaming life's energy
to everything you touch
it's almost too much
for me to grasp
your essence
cries out to me
so I can see
How
We are all connected to you
River of Life
We flow with you always together
under the canopy of the Sun
Flow away as only gravity can take you
So determined the course
Flows down stream as one
continuous motion forever
Linked like this I stop here
experience your shimmering grace
for a moment I stand near
see your glimmering face
So refreshing the sight
sparkles my eye
lost in the moment
I start to cry
My own Waterfall
falls for you now
for you to see
To gather as one
your water and mine
flow now together down
into the sea
where we are free
Once more to join our Sun
rain comes running down
through the canopy
I See you Fall
Come over your ledge
into my pond
where I stand with you
In this place
Once/forever again in your pace
In this way you touch my face
For a moment We stay in place.
In this way I touch your grace.