Traditional translation of Laura's horse painting "Together", done in oils on panel board( 16″ × 20″). I liked Laura's rendition of the two horses for capturing their wild spirit and powerful yet graceful agility. So I decided that this translation will expand upon those qualities she captures so well. I changed the horses to white and made the painting more like a fantasy than realistic (white for spirit/ghost like) and "spacey" (dream like). I also decided to unclutter the confined painting by merging "Together" into one horse, using the rear of one with the front of the other, choosing 4 mix match legs I liked and bringing them together in a fulcrum underneath the more powerful faster galloping horse to bring out his agility in balancing all that mass.I turned his head in to keep him from running off the page and to more directly engage the viewer and keep eye movements in the work. The single horse can now run free in the painting so I opened it up even further by painting a moonlit ocean scene as a back ground. Since I liked how the original background light was able to contrast the body and legs so as to profile the dark horses and high lite them, I did this with the moonlight coming through the back to silhouette the scene, this not only created dramatic lighting on the horse,like Laura's shimmer on the skin, but also created the dramatic powerful force of the galloping legs on the bottom where I was able to keep the high contrast image of the power transfer from the legs to the ground (as in Laura's work). So now I have the basic Idea as to what I want to create..and horses have always been a symbol of power grace and freedom for me ,so since I am painting this in September 11,I decided to dedicate this painting to the victim's of 9-11. Not only will I paint it like a waving flag (wavy mane and tail hairs), but also will paint it in red white and blue. Red for all the lives that were lost ( price of freedom) blue for our vast ocean continent and space (reality/universe), white the symbol of all things good and pure (as in the white stallion). ..(even put the back leg as a tower crashing into the ground for subliminal effect). so now you know how I interpreted the two horses to look like This, and why I call it "Spirit of freedom" and dedicated it to the victims of the 9-11 disaster. ..yes I have a lot of time to think about things as I am painting haha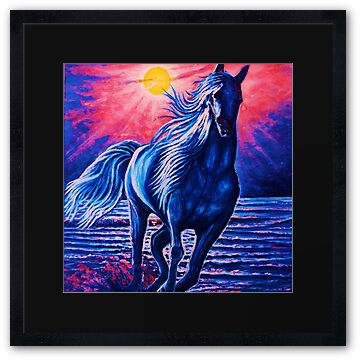 : http://www.redbubble.com/people/jyruff/art/7774...
"Spirit of Freedom tribute to 9-11
by jyruff": http://www.redbubble.com/people/jyruff/art/7774...