If you would like to post this banner( below) to your profile feel free to do so. Show your support!
gifs created by:Me
Model: Paris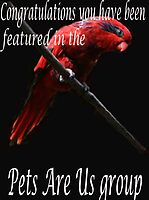 This photo is currently published in a book as of January 2010 called The Top Pets of 2009. I am soooooooooo excited about it!
This is the newest edition to my family… Paris. This was taken when the day I got her home. She was only 6 1/2 weeks old. She was looking out the front door at a bird and it really had her attention. I had to get the shot!
She is a Chinchilla Shaded Silver persian and I just love her to death. :) She is just a little angel.
8308 views as if May 25, 2010!!!
My most viewed photo on Redbubble.
90+ faves
7 sales
This photograph is July in my Persian Cats and Kittens Calendar