I decided to give the wide angle lens a work out
Canon 450D 10-22 mm lens
edited in PSE 9
This version is in B/W for a challenge
Beaumaris Castle is distinguished by its inclusion as a World Heritage Site.
And not without good reason is it considered the most beautiful castle in Wales.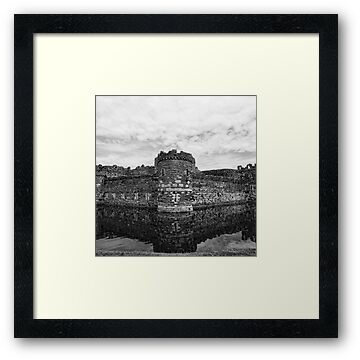 It is widely accepted as probably the most technically perfect example of a medieval castle in Britain.
While conforming to the highest measures of architectural design and creativity, this castle exhibits a beauty that has inspired poets and painters over the ages.
Edward I engaged his military architect, James of St. George, to design his castle on the south east coast of Anglesey. Beaumaris was his last, and he brought to this project all his creativity and significant experience gained building some of Europe's greatest castles.
Such an ambitious project required a huge pool of workers. It was quite normal for there to be about 2,500 workmen involved, including 400 or so skilled stonemasons to cut and lay the blocks. While stonemasons and carpenters did the "upstream" work, there were hundreds of men involved in "downstream" activities such as quarrying (Penmon and Pentraeth on the island), transporting the stone, coal, lead and other metals by sea.
With so many people involved in the project it is perhaps not altogether surprising that eventually Beaumaris Castle was unfinished due to lack of financial resources.