Graffitti walking tour of Newtown and Enmore
Last weekend I had the great pleasure of being asked to accompany a graffitti walking tour of Newtown to talk about a particular mural that I painted that has subsequently become a bit of a local icon. I have done all sorts of interesting … well interesting to me anyway… things as an artist over the years but the time I spent working and making art on the streets of Sydney would have to one of the most exciting and I have extensive archives of images from murals and street art from that time. Anyway an old friend Matthew Peet… aka Mistery… (who btw is one of the premier street artists not only in Sydney but in the whole country and who rightly deserves his title of graffitti King…his work is legendary and he has painted in his very distictive style in over 20 countries around the world) …..so anyway Matt asked me to join him to chat about street art and tell a few tales and suchlike and I was honoured and very excited to be able to join him on this tour.
As I had never been on one of these tours I had no idea what to expect but hey bring it on…. Matt asked people to assemble outside the Newtown train station and that's what we did….
.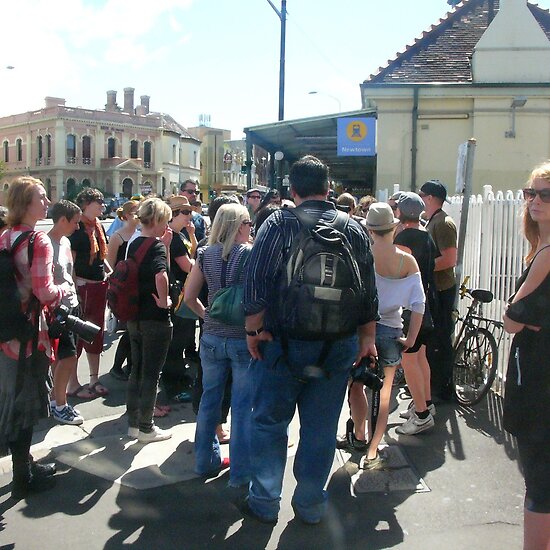 .
what the above shot doesn't show is the sheer volume of people who turned up for this… I did a quick head count while waiting and there were close to 40 people on the tour… with a second tour booked for the same day with as many people and another 45 on a waiting list…. blimey! please don't ever tell me that people don't like street art….. anyway after collecting us all at the train station we all ambled up Enmore Road to begin….and this is Matt at our first stop of the tour…
.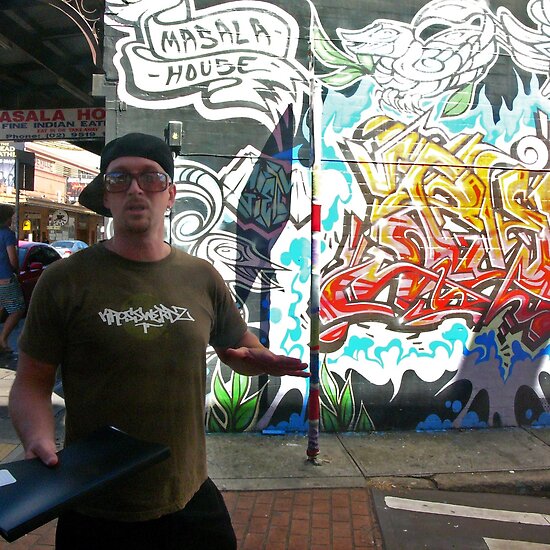 .
he was explaining how many shop owners in the area are happy for a big mural to be done as long as the crew somehow incorporate the name of the buisness in the artwork like here above…..and if you look really really closely at the sign post in the background behind Matt you will see some evidence of guerrilla knitting which has to be one of the most whimsical ways to break the law of the land I've ever come across…. anyway then we meandered off down the laneway to our next stop … how cute is this young lad in the very cool tee shirt walking next to his idol hey……
.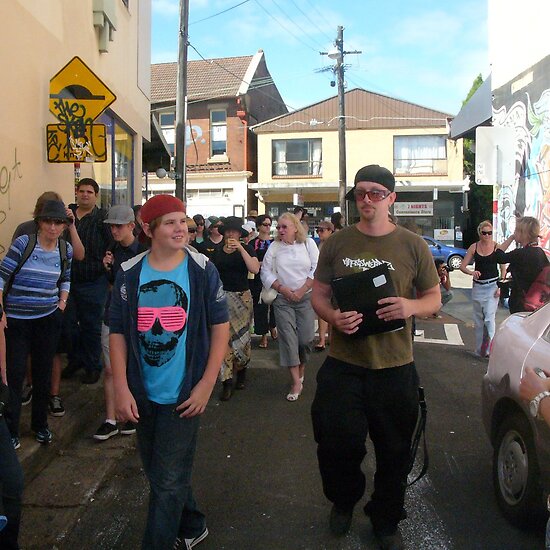 .
as we reached the laneways behind Enmore road we discovered that a local yokel didn't like the graffitti and had taken a spray can to about a dozen large peices and vented his spleen… tosser… there has been graf going down in these laneways for decades and council doesn't mind it …. anyway
.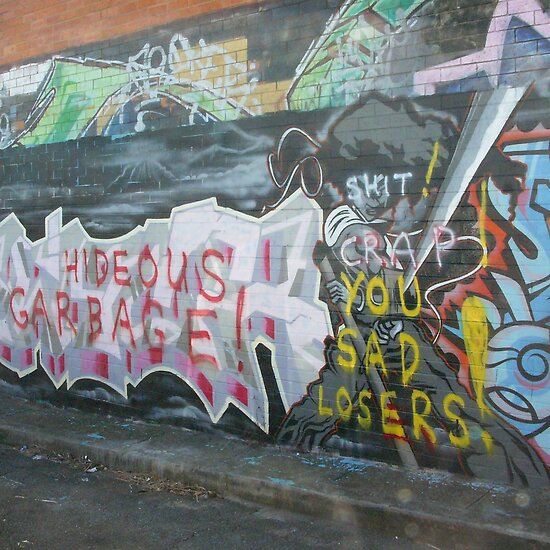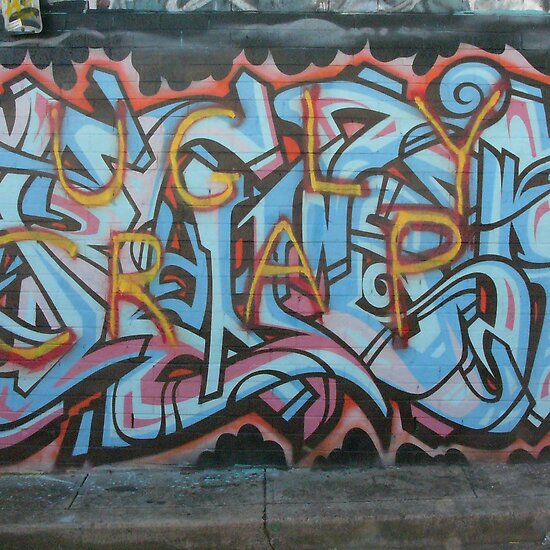 .
anyway not to worry there be lots more to look at besides curmudgeonly comments by the artchalleged…in this shot of happy snappers in an alleyway there is one of the tour volenteers… that is the older lady in white… she and another older lady both had large tags on their shirts that that proclaimed their status and they had the unenviable task of keeping 40 odd meandering graf tourists all going in vaguely the right direction… which to my mind is a little like herding cats but they seemed to have a very good time of it so what can I say…..
.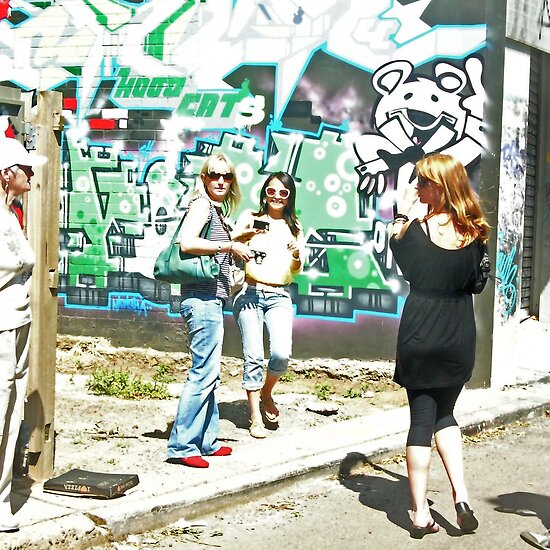 .
anyway on we went and there is some truely spectacular graffitti in the backstreets of Enmore… here is Matt again explaining some of the finer points of wall art….
.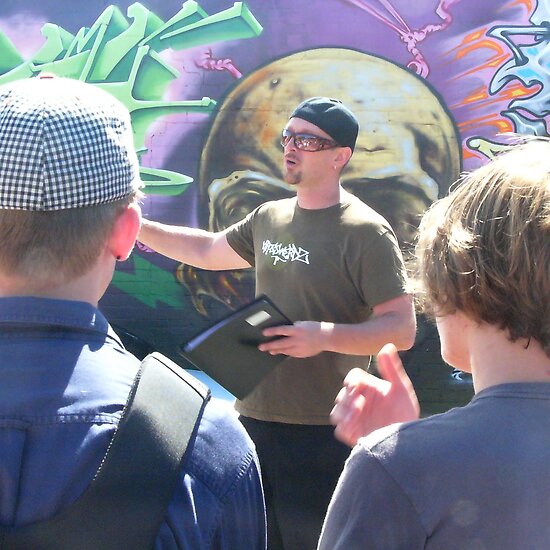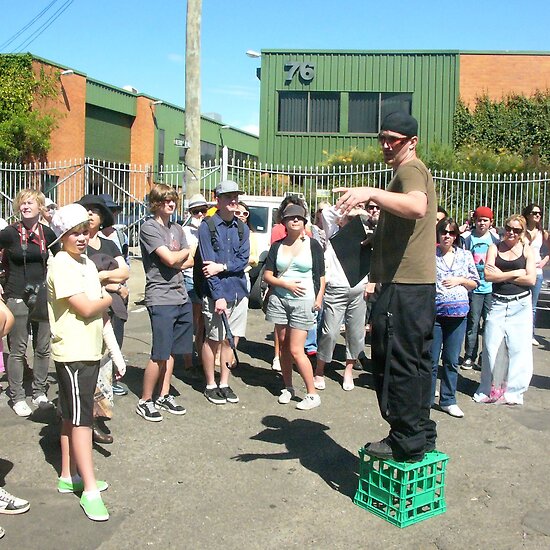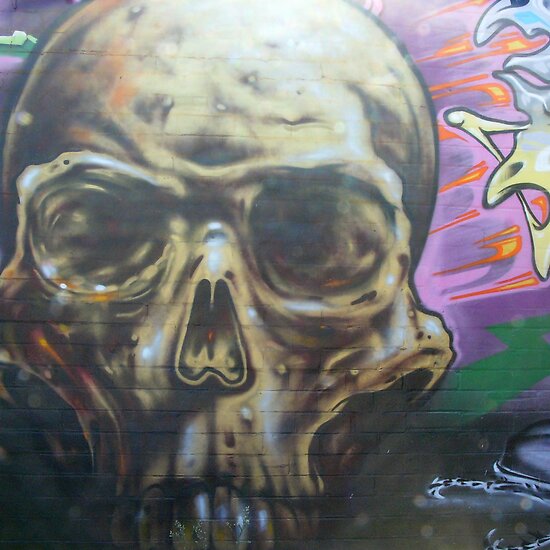 .
there was so much to see and talk about that we really didn't spend a lot of time with any one peice but just kept strolling the back streets taking it all in with Matt stopping to chat every so often….
.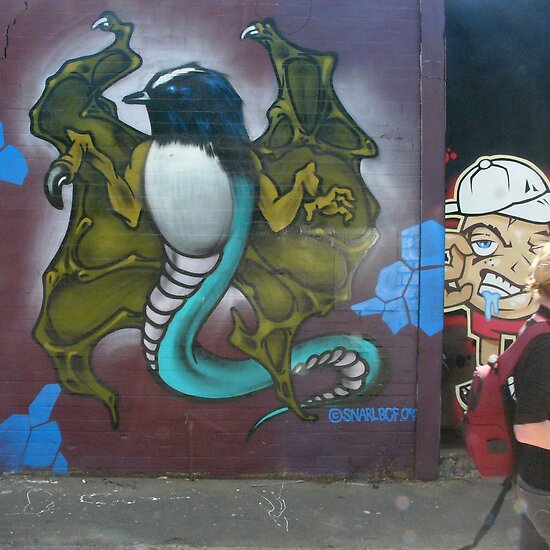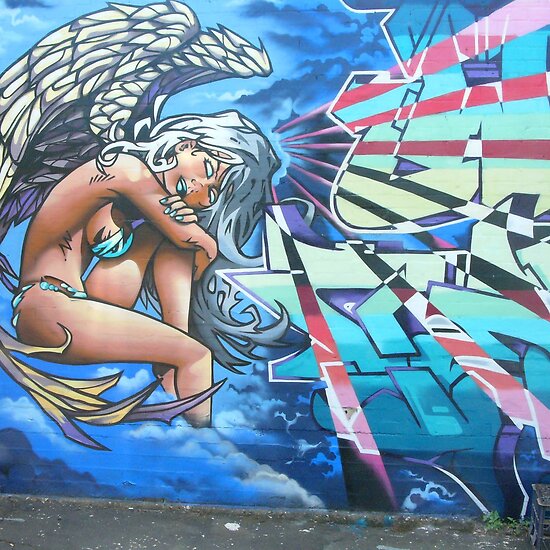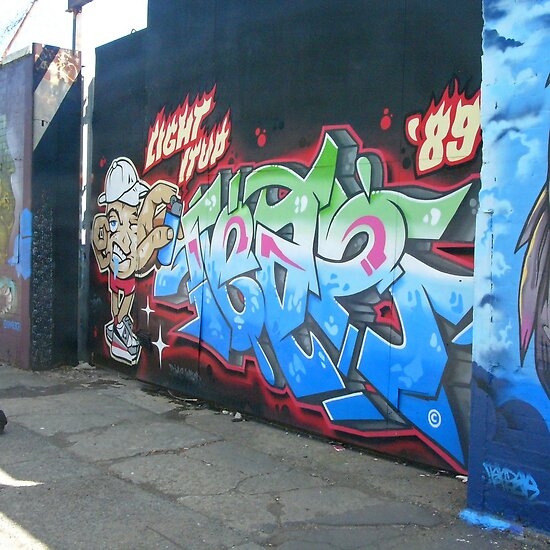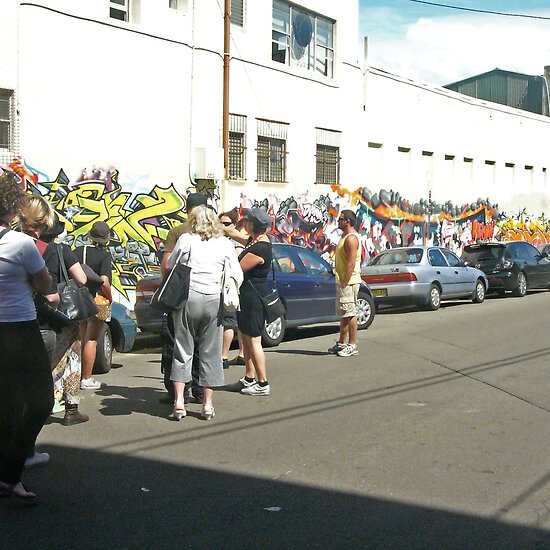 .
Newtown is such a happening and creative place that not all the street art is graffitti by any means and there are often little hidden gems tucked around in the back streets … like this lovely little mural outside the front of a small design house…
.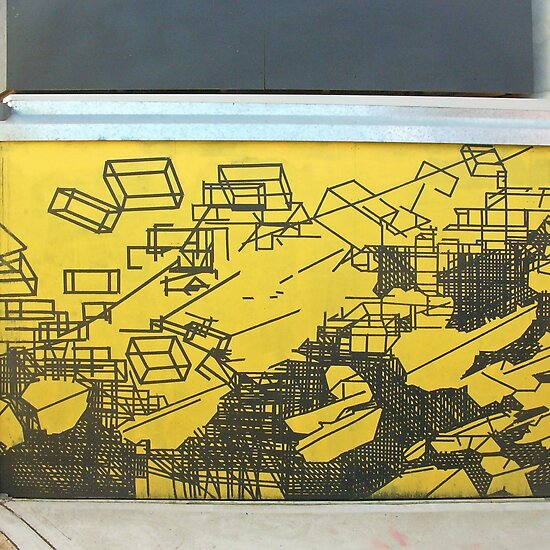 .
a lot of bigger graf murals are designed to be homages to popular culture like these this one which is based on the cult movie 'The Warriors'….
.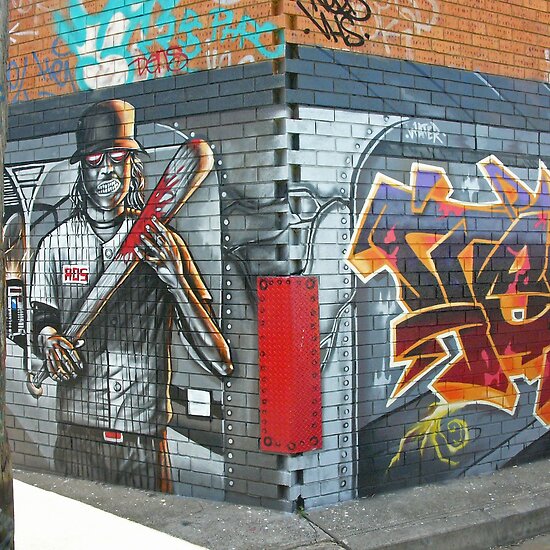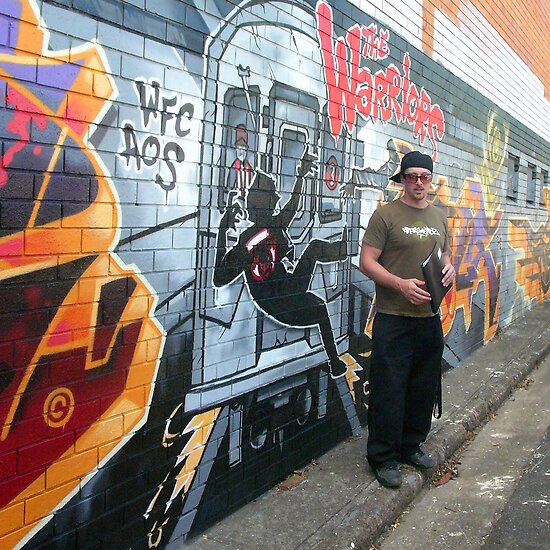 .
and everywhere we when we saw lots and lots of really cool and fun stencils ….
.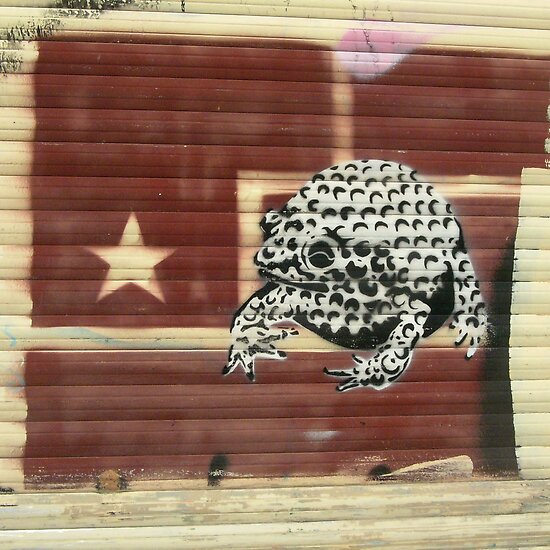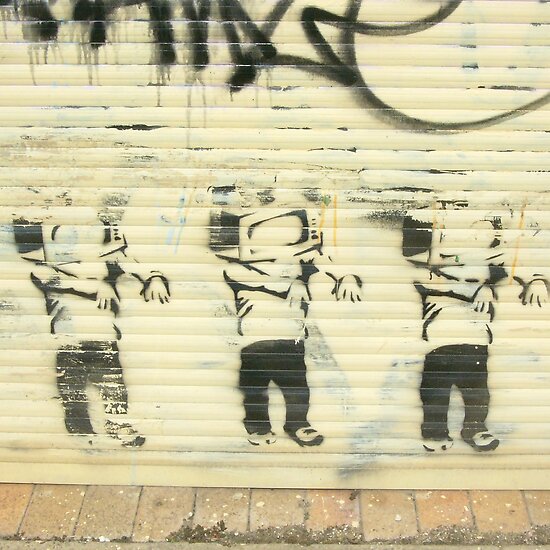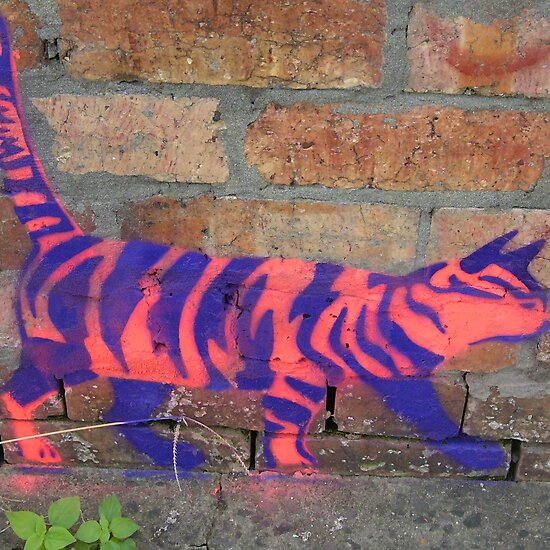 .
so here's an interesting question… are Australians really Aliens in disguise?
.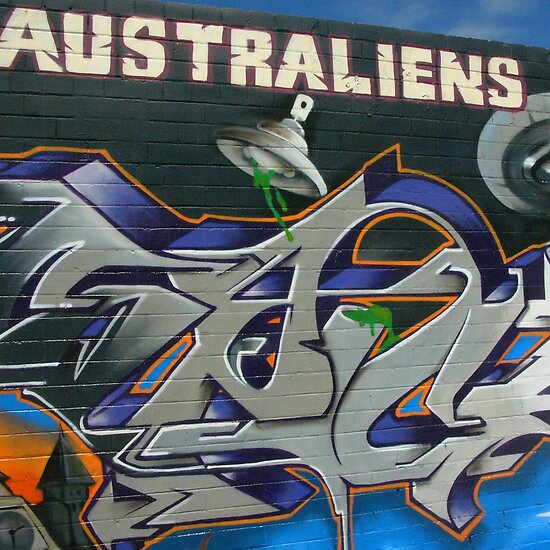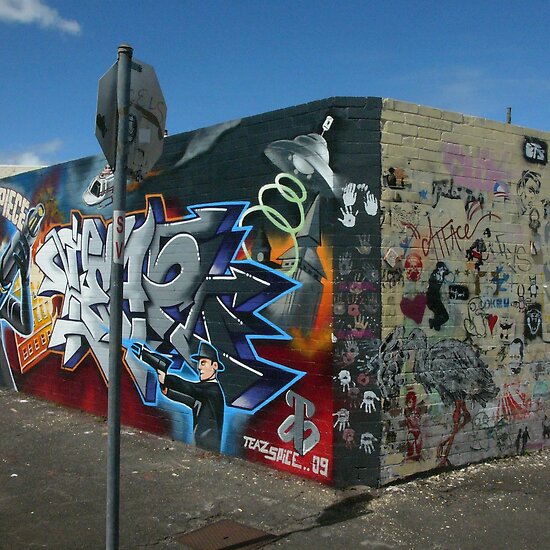 .
well Aliens or not there were some seriously happy snappers in the group and there was plenty of fabulous artworks available to take photo's of…. it seems like every available bit of wall in parts of Newtown are dedicated to artworks of some type or the other…..and that TV infront of the stencil wall is actually also street art… it's been created and very firmly fixed to the footpath…
.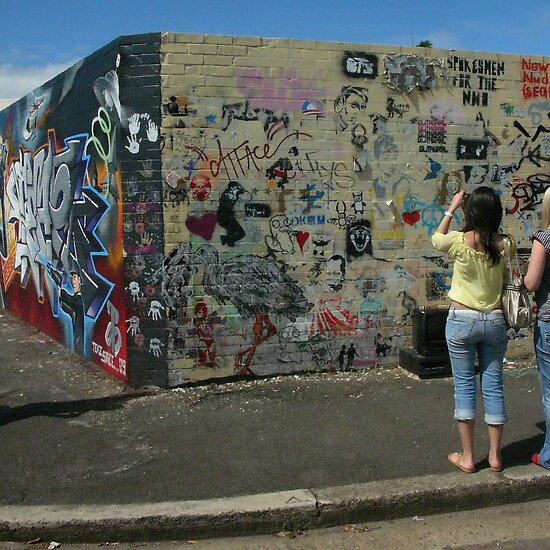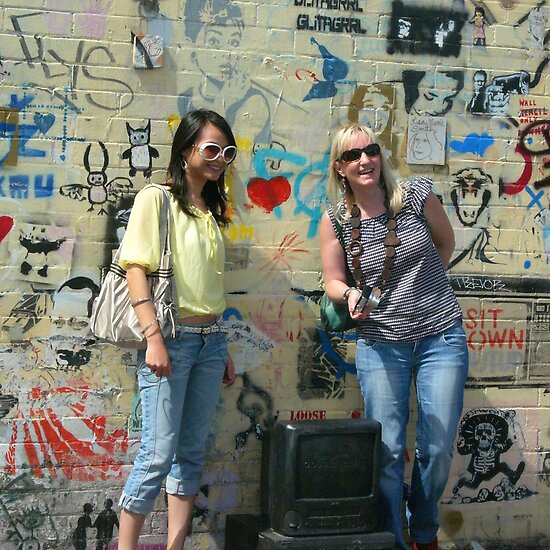 .
Enmore and Newtown are bisected by a major railway line so we had to go through some pretty grotty and narrow tunnels to get to the next part of the tour….. still I love tunnels and find them way fun to photograph in….
.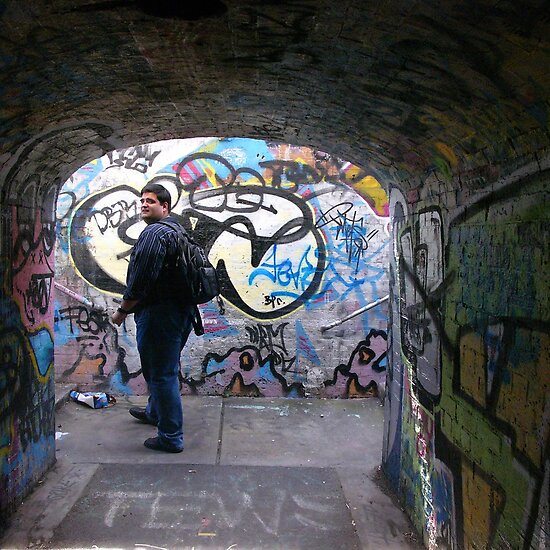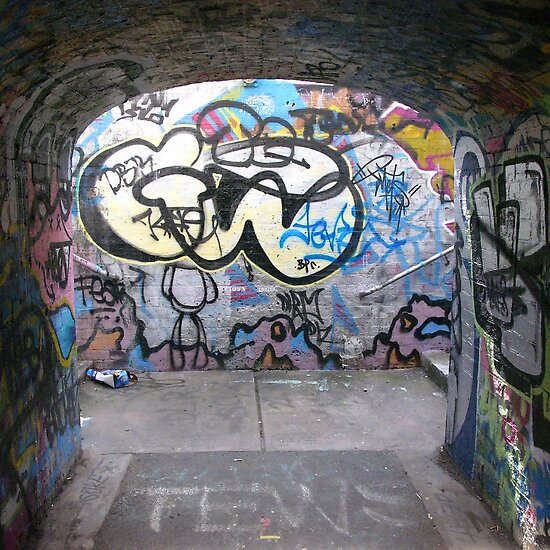 .
some of the larger peices in the back of Enmore are truely astounding in both the excecution as well as the stories they tell and people were thrilled to listen to Matt explain them……
.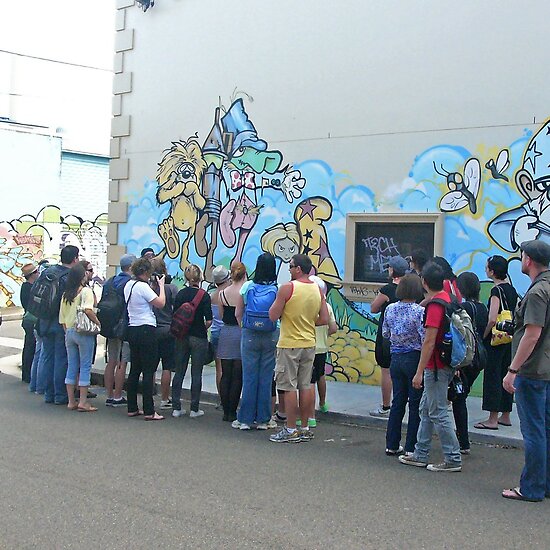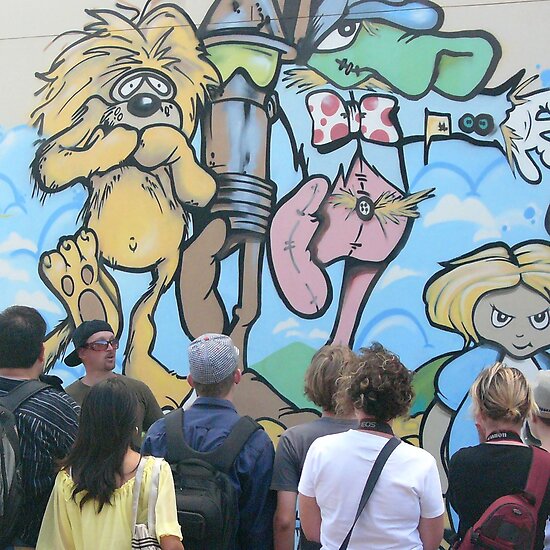 .
then we came to something a little special that was one of Matt's own pet project that he has been painting on and off for three years now… a whole lane way dedicated to cult action movie posters… not only is an awesome painter but also a rapper and breakdancer who also teaches martial arts and this whole lane is dedicated to these parts of his persona….
.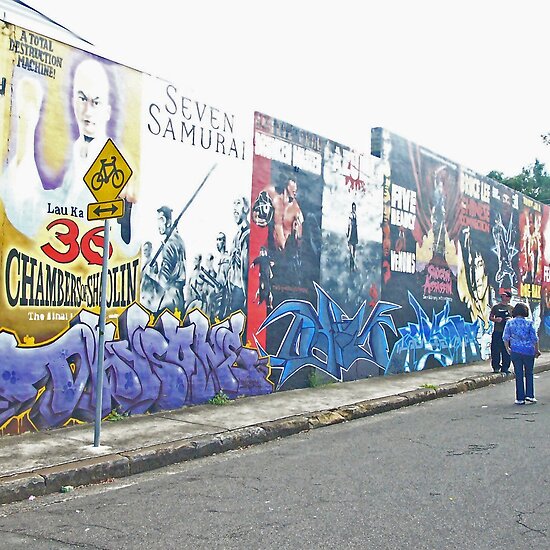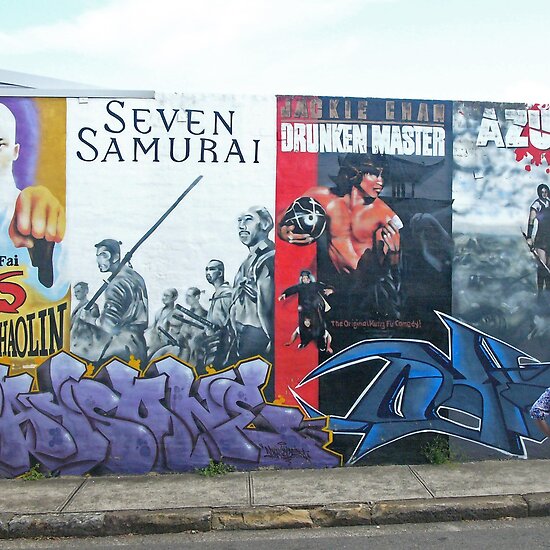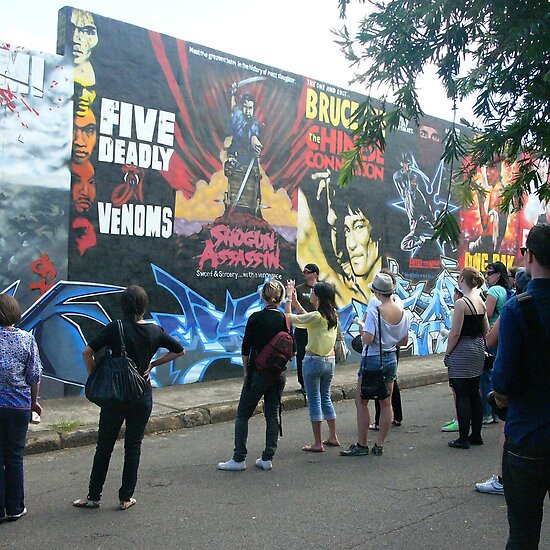 .
This really truly is something majorly special and it looks fantastic up close… all the people who come and help him from time to time….. and this includes a lot of internationals who come especially to paint with Matt and do a bit on this ongoing project…..anyway the guest artists all do a signature tag at streetlevel so you can see who helped where…..
.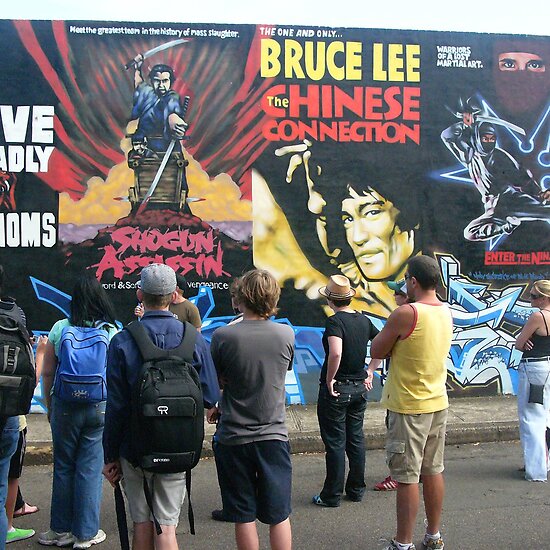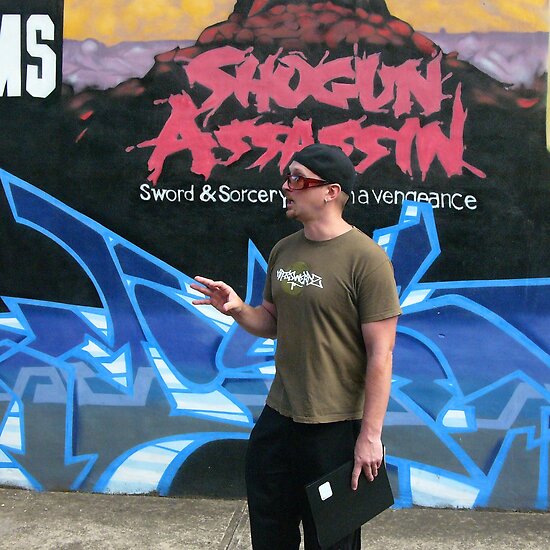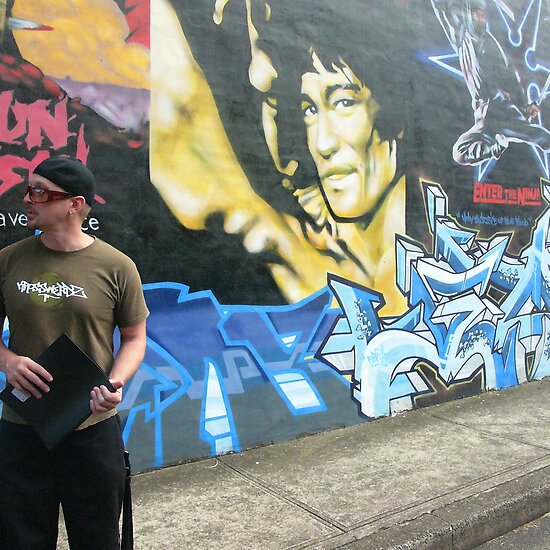 .
having Matt there to talk about the history of graffitti in the area was just so fantastic as he is funny and smart and easy with everyone… by now we have left his big personal peice and are walking back towards the centre of Newtown again… and there is graf everywhere….
.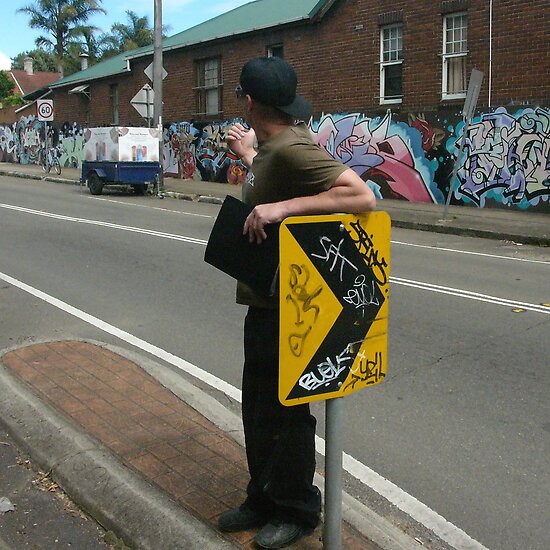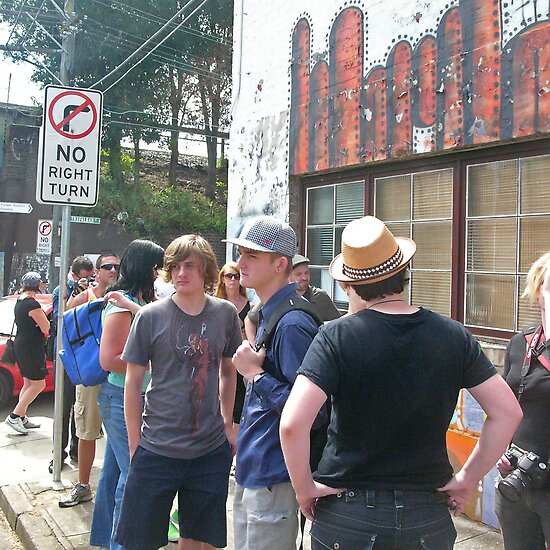 .
wheat paste artworks are also popular and this is one of the best I've seen.. it's all printed onto large sheets of paper and stuck up to the wall and it's very very effective as you can see….
.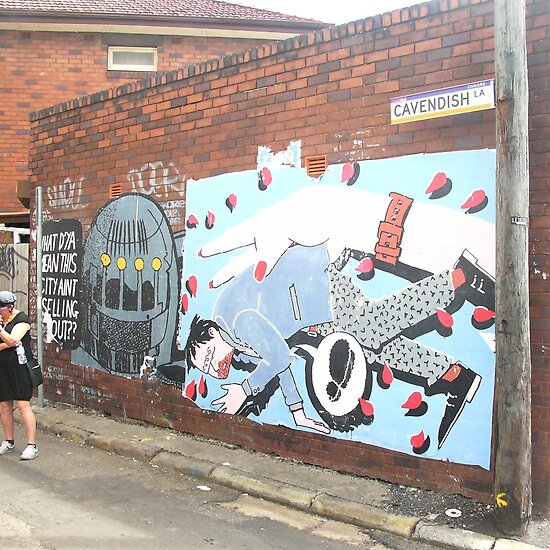 .
all though Matt and I talked about lots of the street art we passed by there was just so much more that had to be passed by due to lack of time…it was only meant to be a two hour tour although you could spend two days and not get it all done… and the vast majority of the works on the street were just amazing… some of it took my breath away…
.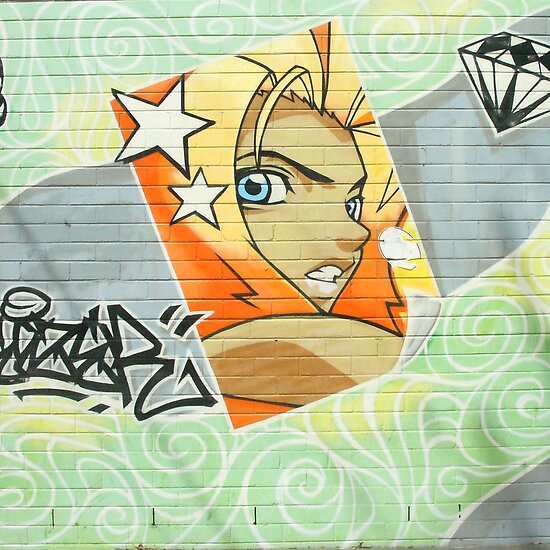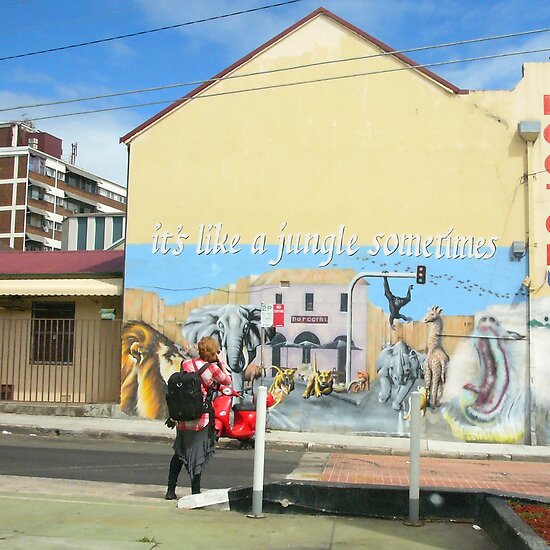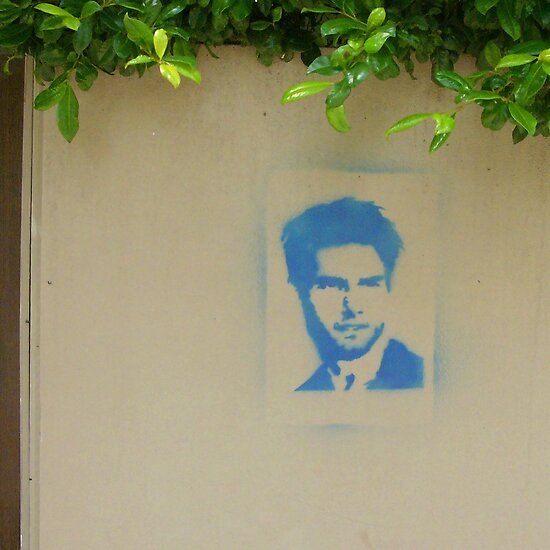 .
by now we were heading back to King Street and the Martin Luther King mural that has over the twenty odd years of it's existance become a bit of a local icon so Matt and I started to tell some of stories of some of the older and more famous/infamous long lost murals and peices that had once graced some of the most prominent walls around the neighbourhood….
.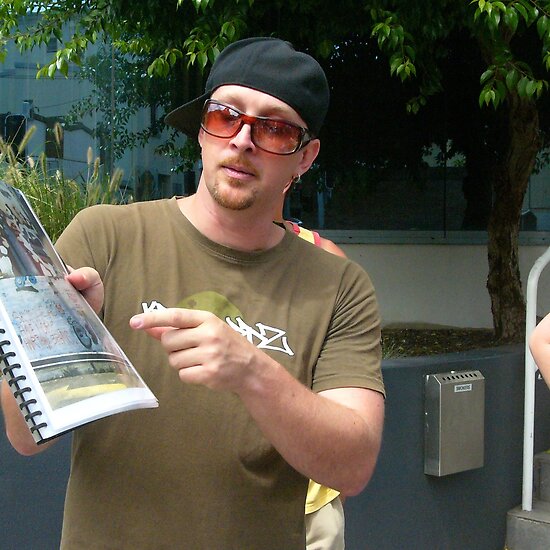 .
and then we were back on King street and heading for the Martin…
.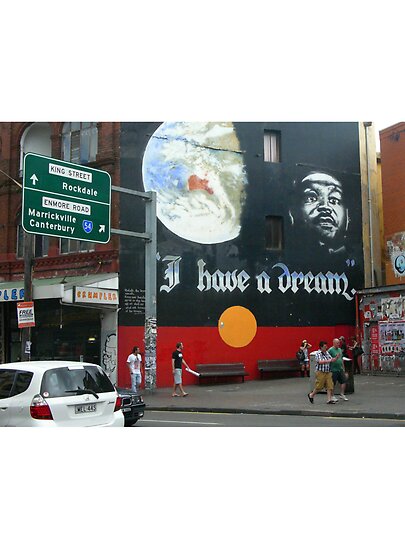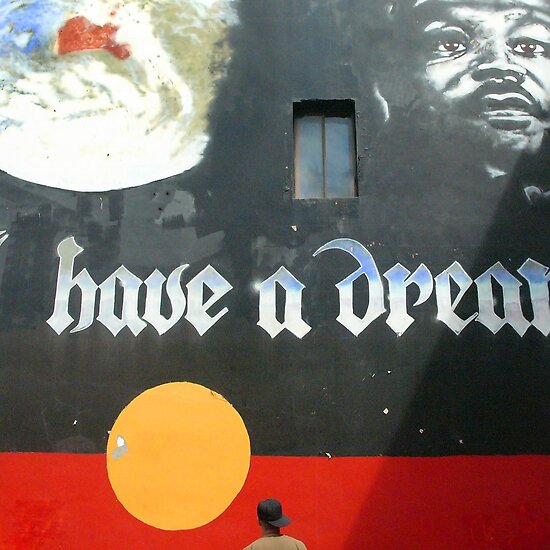 .
and this picture of Matt and one of the lovely volenteers standing infront of the mural and just about to introduce me up to address the tour… which with onlookers and add ons from the walk now numbers more than 50 people….
.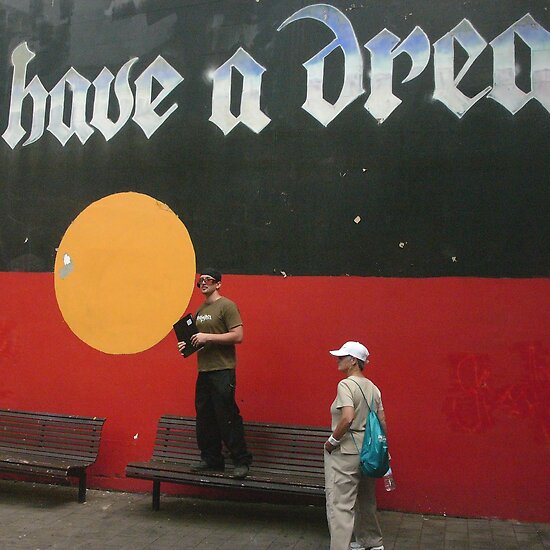 .
I spoke for about 15 minutes or so about how the mural had come about and how we did it and then Matt and I traded a few outrageous stories about various things pertaining to street art and street artists and explained how we had all met and come to work together… and the people just loved that to bits.. when I stepped down I had a roar from the crowd that was a bit like a standing ovation…
now sadly I have no pictures of me actually speaking to the crowd .. at this point anyway and as this is the point where the tour ended … for me anyway this is also the point where this way too long journal ends as well…. but as I have no pictures of me to share I'll just close this down with a few pictures of shop windows that might amuse you all… oh and whatever you do… if you get a chance to take a graffitti tour with some of the artists on hand to chat too… DO IT… it's way good fun and a very very pleasant way to spend a Saturday afternoon……
.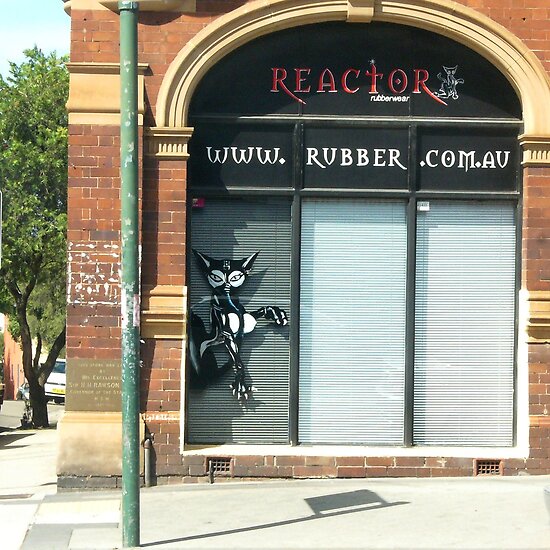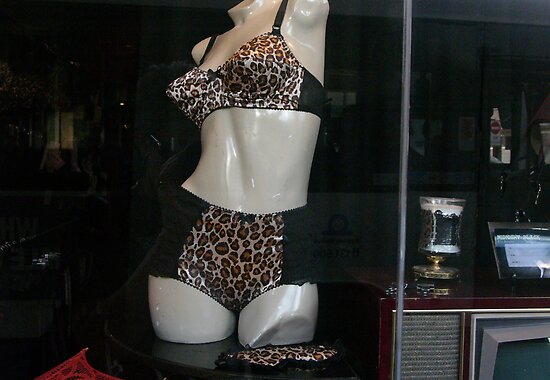 .
well that's all folks hope you enjoyed this vitural graffitti tour …….xx
.