Nikon D90, Tamron 10-24mm Lens
Photomatix Pro 4.0
HDR 2 image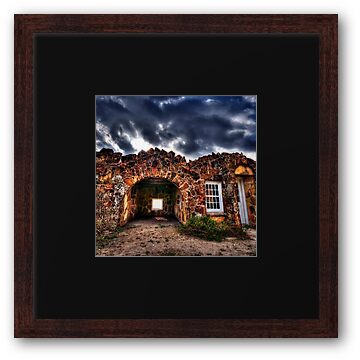 E.F. Boydston built a gas station in 1927. Eight years later he decided to cover its exterior with chunks of petrified wood, perhaps inspired by a similar gas station in Colorado, or by Petrified Wood Park in South Dakota. E.F. didn't stop once he started, and covered the walls of his next-door cafe and motor court as well (One of the motor court cabins was reportedly rented by Bonnie and Clyde a couple of weeks before they died).
The cafe closed in 1964, the cabins around 1970, the gas station in 1989. They all passed into the hands of Nancy Rosendahl, one of E.F.'s grandchildren. She and her husband Jim, a retired nuclear engineer, told us that "we didn't have the heart to tear it down," and spent the next decade restoring the entire complex to its circa 1945 glory.
Jim Rosendahl has turned the gas station office into his own private office (the gas station no longer sells gas), and told us that he wanted to open the motor court as offices for rent, a plan stymied because the cabins weren't wheelchair accessible.
The cafe had a standing-room-only lunch crowd when we arrived; it seems to be very popular with the locals, who obviously appreciate what fossilized vegetation can add to a meal.