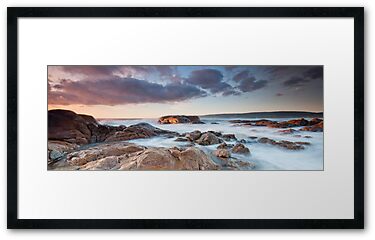 More from my recent trip to the South West of WA, Spectacular Beaches, wonderful soft evening light, heavy swell but quite calm produced some wonderful effects over these rocks….
You know what I'm like with my Pano crops..so here we go !!.. Love how the various levels of light hit the different rocks, all the same tone yet look completely different !!.
Nikon D90
Sigma 10-20mm @ 10mm
F/16
ISO 100
4.0 sec exposure
Heliopan polariser
0.6 ND filter
0.9 Soft ND Grad
FEATURED : Colour and Light
Jason Green wrote an exceptional piece on me here Friday Featured Photographer #4: Jonathan Stacey.
My First Photography Tips Tutorial is here !!
You can now follow me on your iPhone for free with iFolio Simply download the app and search for me !!!