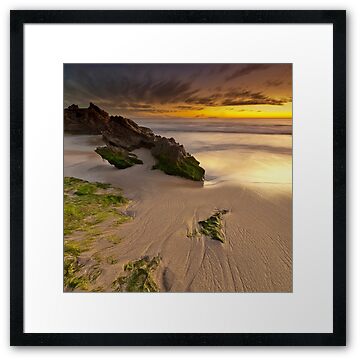 Well I've had a really bad day….and I mean Bad !!..so couldn't think of a sensible name for this without is involving several expletives and the word BANK !!!, really like the image so want to post it…just can't think of a name !! sorry !
Shot at my most favourite place that has two rocks, green Moss and is facing west !!…..Bennion Beach, Perth's Northern Suburbs, Western Australia.
Nikon D90
Sigma 10-20mm @ 10mm
F/11
ISO 100
6.0 sec exposure
0.9 reverse ND Grad
0.6 soft ND Grad filter
Heliopan Multi Coated Polarizing filter
vibrance, temp and fill light enhancements in Lightroom 3.0
FEATURED : Landscape Photography
FEATURED : Sea Group
FEATURED : Nikon DSLR Users
FEATURED : The Silky Touch
FEATURED : Beachscapes
FEATURED : Seascapes with Rocks
FEATURED : The Top Favourite Group 30 or more
FEATURED : Quality unlimited
FEATURED : World Wide Sunsets
FEATURED : 500 – 5000 Group
578 Views and 46 Favourites @ 12 September 2010, Thanks to everyone who has commented fav'd and featured this shot….:)
Jason Green wrote an exceptional piece on me here Friday Featured Photographer #4: Jonathan Stacey.
My First Photography Tips Tutorial is here !!
You can now follow me on your iPhone for free with iFolio Simply download the app and search for me !!!