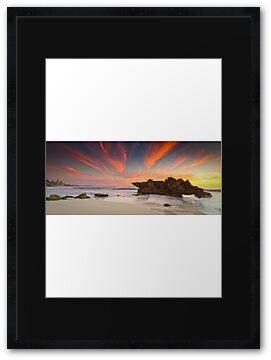 This really captivated me…heading down to my little stretch of heaven with my Daughter and finding in a few short weeks since my last visit this thick layer of seaweed growing all over the semi-submerged rocks…..
Couldn't resist taking a leaf out of David Murphy's book and getting right down in there with all the seaweed and water…thoroughly soaked..thoroughly happy and thoroughly satisfied with the results !!..
Taken at Bennion Beach, Perth's Northern Suburbs, Western Australia.
Off for the weekend down to the South West of WA…a photographers dream location ..!!.. well …hopefully… so will see you all again early next…Have a great weekend everyone….
Nikon D90
Sigma 10-20mm @ 10mm
F/11
1.0 second Exposure
ISO 100
Hitech 0.6 (2 stop) ND Soft Grad
Heliopan Polariser
FEATURED : Around The World
FEATURED : All Water In Motion
FEATURED : Going Coastal
FEATURED : Seascapes with Rocks
FEATURED : High Quality Images
FEATURED : Wide Angle Photography
Top 10 : Live and Let Live Challenge
Jason Green wrote an exceptional piece on me here Friday Featured Photographer #4: Jonathan Stacey.
My First Photography Tips Tutorial is here !!
You can now follow me on your iPhone for free with iFolio Simply download the app and search for me !!!