Canon EOS 350D, @37mm, 1/60sec, F/5, ISO-400
Location: Vlagtwedde, Netherlands, Europe
As Is on October 9/2011
Work Stats: Created: 2011-10-10, Comments: 80, Favorites: 20, Views: 2275
Featured
Redbubble Featured Photography November 15/2012
Colourists October 15/2011
Pets Are Us October 15/2011
Cats and Dogs October 11/2011
Kitten in a Bowl
This is Dickens 6 weeks old and together with her sister Douglas the newest members of my daughters family.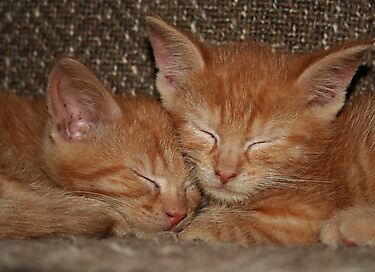 European Shorthair
The European shorthair (or Celtic shorthair) is a breed of short-haired cat originating in Sweden. It's a recently recognised breed established to preserve the naturally occurring cats that have lived in European villages and cities for ages. Many people incorrectly refer to any stray cat as a European Shorthair.
European Shorthair has its counterparts in Great Britain (British Shorthair) and USA (American Shorthair), that have been bred much longer. The British Shorthair however was crossed with Persian Cat and selectively bred to become a cobbier cat with slightly shortened muzzle and thicker coat. It was confusing for Scandinavian breeders that the British Shorthair was also called European Shorthair at that time, even though it looked different. Felinological associations recognized both types of cat as a single breed, meaning they were judged by the same standards during cat shows, until 1982 when FIFE registered the Scandinavian type of European Shorthair as a separate breed with its own standard.
The European Shorthair's dense coat is short, soft and glossy, and should lie flat. All natural colours are permitted, such as black, red, blue and cream, with or without tabby or white markings. Pure white is also permitted. The eye colour corresponds to the coat colour and may be yellow, green or orange. Blue or odd-eyed individuals are permitted if the coat colour is white.
Source: Wikipedia