Canon EOS 350D, 1/125 sec, F/5.6, ISO-400
Location: Vlagtwedde, Netherlands, Europe
Date: August 14/2011
Born: Czech Republic on June 19/2011
Female: Domidori
Tosa Inu Kennel: Malizi Doghouse
Puppy Midori first time in the backyard!
A Tosa Inu pup 8 weeks old now.
This Japanese breed's name is Tosa Inu but is also called Tosa Ken. The Tosa was bred as a fighting dog in the middle of the 1800s. Today the Tosa is an excellent guardian.
Tosas are massive dogs with great variation in height and weight – 21 3/4-30 inches tall minimum and weigh 100-200 lbs. Ears are smallish and pendant. Eyes are almond-shaped and dark. The tail is long, thick at the base and tapers to a point. The coat is short, dense and lies flat against the body. Colors are red, black, combination of red and black, brindle, brown or black with red markings. Grooming requirement is occasional brushing to rid the coat of dead hair.
Source: The Pet Wiki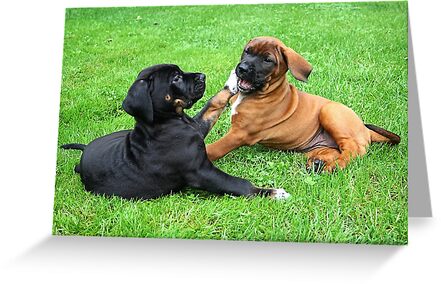 Featured
Artists Universe August 22/2011
In Dogs we Trust August 21/2011