Canon EOS 350D, 1/1250 sec, F/5, ISO-100
Location: Bronneger – Drenthe, Netherlands, Europe
Date: May 15/2011
Featured
Country Roads Around the World June 5/2011
Which Way May 27/2011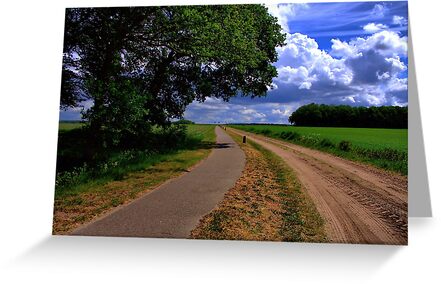 Countryroad – Steenakkersweg (Stone-field-road)
I love this old country road because it leads me to the history of the people who made here their first footsteps for living.
This is a very old road and you can find here several dolmens.
Hunebedden are chamber tombs similar to dolmens and date to the middle Neolithic (Funnelbeaker culture, 4th millennium BC). They consist of a kerb surrounding an oval mound which covered a rectangular chamber of stones with the entrance on one of the long sides. Some have a more complex layout and include an entrance passage giving them a T-shape. It has been suggested that this means they are related to the passage graves found in Denmark and elsewhere.


Bronneger is a hamlet in the Dutch province of Drenthe. It is a part of the municipality of Borger-Odoorn, and lies about 18 km east of Assen. The statistical area "Bronneger", which also can include the surrounding countryside, has a population of around 110.