Canon EOS 350D, 33mm, 1/400 sec, F/16, ISO-400
Location: Hoorn, Netherlands, Europe
Date: January 11/2009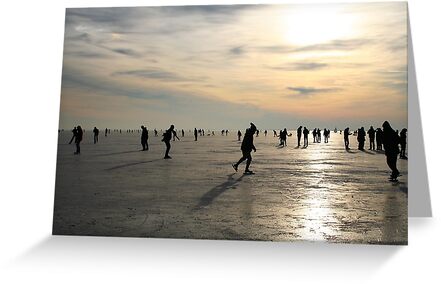 When its Winter and it is freezing we all get the Ice Skate Fever! Ice skating on the frozen lake IJsselmeer or Markermeer photo made late afternoon!
Ice skating is moving on ice by using ice skates. It can be done for a variety of reasons, including leisure, travelling, and various sports. Ice skating occurs both on specially prepared indoor and outdoor tracks, as well as on naturally occurring bodies of frozen water such as lakes and rivers.


In the Netherlands, ice skating was considered proper for all classes of people, as shown in many pictures by the Old Masters. James II of England came to the Netherlands in exile, and he fell for the sport. When he went back to England, this "new" sport was introduced to the British aristocracy, and was soon enjoyed by people from all walks of life. It is said[who?] that Queen Victoria got to know her future husband, Prince Albert, better through a series of ice skating trips!
Source: Wikipedia
Featured
Alphabet Soup – Letter I March 5/2011
Dutch Touch December 10/2010