From left to right:
CN tugboat #6, SS Naramata,, SS Sicamous
Huey, Dewey, Louie
See Also: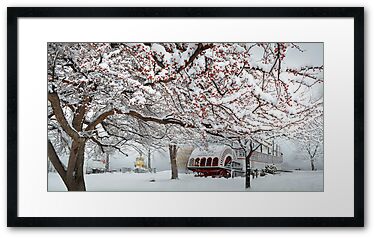 wikipedia
is a large five decked sternwheeler built by the Canadian Pacific Railway (CPR) for lake service between the fruit communities of Penticton, and other towns of Kelowna and Vernon. Launched in 1914, Sicamous ran for many years connecting rail lines and areas. The vessel operated until 1937 and is currently beached as a part of a heritage shipyard operated by the Penticton Museum and Archives in Penticton, British Columbia, Canada. The vessel today is operated both as a museum and events and banquet facility.
The Sicamous was one of three luxury-class liners operated by CPR, which was the main carrier on the lakes, providing freight and passenger connections between Penticton, on the Kettle Valley Railway (the Southern Mainline) and Okanagan Landing (Vernon) for connections to the CPR Mainline at Sicamous via the Shuswap and Okanagan Railway. Smaller launch-sized vessels such as the SS Naramata, which is also beached at the same shipyard as the Sicamous, provided passenger service to smaller settlements around the lake, as well as excursions for tourists. The other two luxury-class vessels were the SS Aberdeen and the SS Okanagan. The first-class saloon from the top aft deck of the Okanagan is also preserved in the park and awaiting funds for restoration.

She served the Okanagan for over 50 years and is now one of the last surviving steam tugboats (not in service) in British Columbia (along with the SS Master in Vancouver). The SS Naramata, one of the hardest day-to-day workers of her time, now sits on the shores of Okanagan Lake in Penticton with the S.S. Sicamous Restoration Society, who over the last several years have been slowly restoring this beauty of a ship. This vessel is an exceptional piece of BC's maritime history.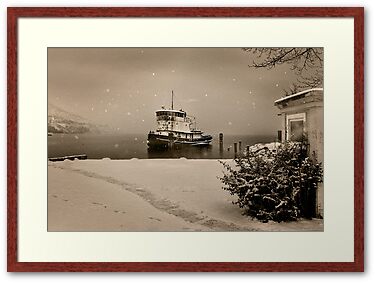 Put into service in the late 1940s by the Canadian National Railway, the tug worked on Okanagan Lake hauling rail barges until 1973. The 157 tonne steel tug boat was a vital part of the valley's transportation system and fruit industry in the 1940's and 50's when she ran between Kelowna and Penticton daily.
Country Living, Old Things Are Vintage, A photographer's Craft, Where On Earth Is This, First Things, All Glorious Gardens, A Love of Boats, Nautical, Live Love Dream
Okanagan Lake park, Penticton, BC., Canada
Feb 2012
Canon S5 IS