Along The Rural Road
Kaleden is a small community in the Canadian Okanagan valley on Skaha Lake. It is near Okanagan Falls and Penticton.
Two historic buildings, the General Store (currently housing the 1912 Restaurant) and neighbouring Hotel Kaleden are found in Kaleden. Contrary to rumour, the hotel never burnt down. Financial difficulties around the time of the First World War led to the closing of the hotel and subsequent salvage of all re-usable material. Only the concrete shell remains. Now a favorite resting spot for birds.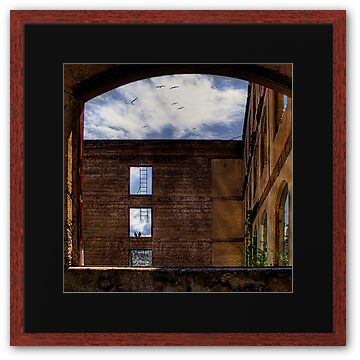 Statement of Significance
The Hotel Kaleden was built in 1910 as one of the cornerstone buildings of the Town of
Kaleden, designed as one of the leading buildings in the interior of British Columbia.
The Hotel Kaleden was one of the first buildings to feature electric light, running water,
private sleeping porches, and exclusive dining rooms. Opened in 1911, the Hotel
operated until the beginning of World War 1 when the economic bases of British
Columbia communities collapsed. The building sat empty until the early 1940's when it
was sold and dismantled. The shell of the building has since sat idle and was sold to the
Regional District Okanagan‐Similkameen by Fred King in 1982.
Heritage Value
Robert Hobson, Hobson and Associates, completed an Okanagan Similkameen Heritage
Resource Inventory, in March 1988. The Kaleden Hotel was defined as a Class 'B' site:
containing features worthy of conservation, with a total score of 80. Sites were evaluated
using architectural (40 points), cultural (40 points) and contextual criteria (20 points).
Points were removed for desecration. All sites were then assessed for historic,
economic, institutional, and architectural representativeness.
The Hotel Kaleden stages of development were classed under first fruit farming (1902 ‐
1918), with transportation and commerce as the best represented economic activities.
The Kaleden Hotel Regional Park has been maintained by volunteers and it is the desire
of the community to see the shell maintained into the landscape of the park. The
structure was dedicated with a plaque honoring pioneer families.
Kaleden, BC., Canada