Also available as iPad and iPhone cases

–
Fractalius or Fractal Flowers in Live, Love, Dream
100%, Color Me A Rainbow Black x2, Extreme Close-Ups, Feel, Don't Copy, Featured For A Challenge, Artists Universe, Solo Exhibition
October 2010 Juried Invitational Exhibition
Excellence in Visual Impact Award


Bunny Clarke Digital Art Award
Excellence in Visual Impact
SoJie 8, October 2010
This image is my personal favorite. The original photo of white cherry blossoms was taken many years ago with a cheap little compact, lo-res, out of focus with camera shake – something I would have normally deleted. But I saw the composition within the photo and start fooling around with it in Photoshop. After many years ( on and off, of course ;p ) and many iterations, the best I could come up with is a cute picture only my mother would like. But I have grown attached to the image so there it stays on my hard drive.
This final edit was inspired by the title Midnight Sun, and when I was working on another image and saw the technique that might just make things work.
So, this is what I felt so many years ago when I refused to trash that ugly duckling!
Scroll down to see the original…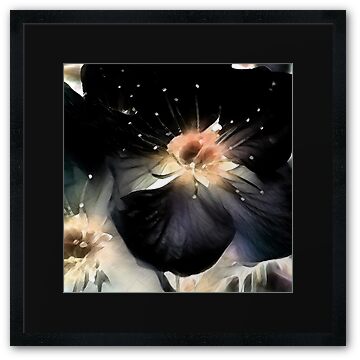 Original shot with Canon S3 IS