How to make a dream come true
I have been asked a few times how I process some of my images, especially on a few flower shots. While I am honored that my techniques are at least pleasing to some, I must profess that I can only consider myself as an amateur Photoshop user. I really am quite clueless. The best advise I can give anyone is to learn by having fun fooling around with all the features an image processing program has to offer. It always helps to use images that you like, and of high quality to begin with.
Don't be afraid to make mistakes, that is, as long as you don't save over the original file. Most of the time, things don't work out for a particular image I am working on and that's okay, I had fun, and hopefully learned something from the exercise that may be useful for other images. One good example is this image below I had worked on for years and never got anywhere beyond cute,
Original Cherry Blossom

The description on Midnight Sun reads "*This image is my personal favorite, although it hasn't gotten much attention. The original photo of white cherry blossoms was taken many years ago with a cheap little compact, lo-res, out of focus with camera shake – something I would have normally deleted. But I saw the composition within the photo and start fooling around with it in Photoshop. After many years ( on and off, of course ;p ) and many iterations, the best I could come up with is a cute picture only my mother would like. But I have grown attached to the image so there it stays on my hard drive.
This final edit was inspired by the title Midnight Sun, and when I was working on another image and saw the technique that might just make things work.
So, this is what I felt so many years ago when I refused to trash that ugly duckling!*"
Midnight Sun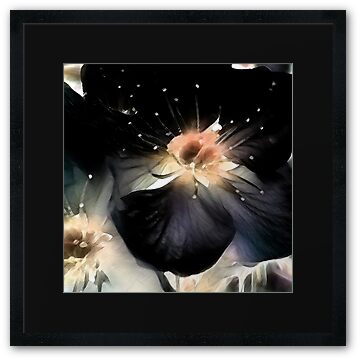 You may wonder why I have put some emphasis on the title for Midnight Sun. That is just the way I work, more often than not, I would not publish a photo until I can think of a title I like. On the other hand, a good working title also inspires and pushes me to go further. Case in point, and the main subject of this journal is, Purple Dream
I had this version uploaded but unpublished for days waiting for a title. When I thought of Purple Dream and got a song to go with it, I knew I had to get more purple than just the magenta on the flowers.
But we are skipping ahead, so back to square one, with the original image
The untouched original is a decent photo but lacked some punch, and I didn't care for the off white blur on the lower right corner. I then tried to blur them some more but got impatient and decided to blur out the second shoot altogether.
Although I can work this more to get a blur I'd like, I stopped there because the photo had lost its composition and balance. It's all about composition, right? So this is when I made a big crop and changed to a square format as shown above.
Now that I have a working title and since I was going to rework the image anyway, I've decided to jazz it up even more.
The first thing was to selectively sharpen the two flowers in the middle. I like to use Fractalius' Unsharp Mask because it gives decent results without too much fuss. The effect, tho subtle, made the two flowers just a little more sharper than the rest and serves as the focus point. I then copied a feathered cutout of the two flowers and moved it to the top of all the layers so these two flowers were not affected by the following steps.
The following step was to enhance the contrast between light and dark, yet with a smooth transition, while giving the scene a subtle softness. I duplicated a layer of the the image and used Fractalius to get this,
then applied it as Screen (brighten) at 20% opacity. I could have and did try Multiply, Overlay, Soft Light and other layer blending. The point is I had no clue of the exact steps I needed to achieve what I want. I just know what I want. Just fooled around until I see what I like, and saved multiple versions for comparison. I want to emphasize that having the Fractalius plug-in in not essential, the effects I used for this image can be achieved by many other Photoshop filters such as Diffuse Glow and other Edge Detection filters, as well as other techniques. For example, I could have used the many Blur filters and then bump up the contrast to get a similar effect, or similar Orton Effect technique.
I had the flowers looking the way I wanted at this point, but the out of focus background could use some improvement. I wanted some movement to add motion to a static scene. I did that by making another copy, applied Radial Blur (zoom), then used it as a Soft Light layer at 20%. Since I only wanted to affect the background, I then masked the flowers, feathered and cut them out. This is a very subtle effect, just enough to let your mind perceive some motion.
This layer is then copied and used as a Color Adjustment Layer for the background (remember the flower part had been cut out?). this is where the deeper purple came in. The purple works because the flowers are about the same hue, so it still looks natural to the scene as out of focus Astrantia in the shade would.
And after a few minor touch ups, a Purple Dream came true :)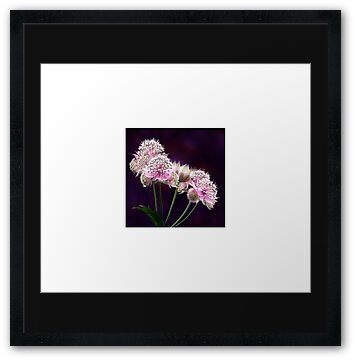 Note that the effects I had applied only enhanced the original, except the color to the background, in very subtle ways.
Please feel free to ask if I was not clear on any points. I welcome any comments you might have, and any tips you PS pros care to share :)
Another example: Lotus is one image I have done specifically for a Special Effect challenge, so I have recorded the processing steps in the description.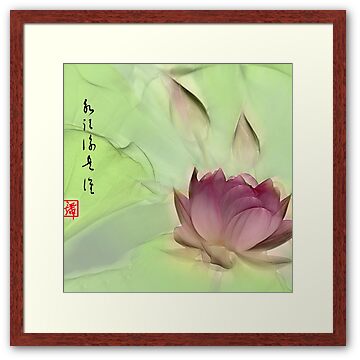 Thank you for reading, and hope you get something out of this. Cheers :)