Dandenong Ranges National Park, Sherbrooke Falls Walk.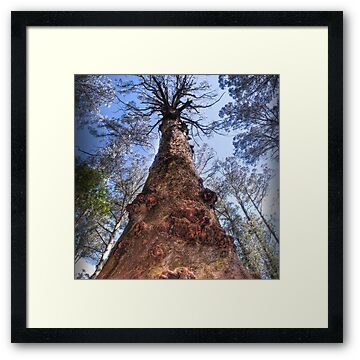 The mighty Mountain Ash is an evergreen tree, and it is the tallest of the eucalypts, growing to 70–100 m (230–330 feet), with a straight, grey trunk. It occurs in cool, deep soiled, mostly mountainous areas.
Unusually for a eucalyptus, it tends not to recover by re-shooting after fire, and regenerates only from seed. The seeds are released from their woody capsules (gumnuts) by heat and for successful germination the seedlings require a high level of light, much more than reaches the forest floor when there is a mature tree canopy. Severe fires can kill all the trees in a forest, prompting a massive release of seed to take advantage of the nutrients in the ash bed.
The tallest specimens of this and many other species encountered by early European settlers are now dead as a result of bushfires, logging and advanced age. Few living specimens exceed 90 metres (300 ft); old records of logged trees make varied claims of extreme heights, but these are difficult to verify today. Historically, the tallest individual is claimed to be the Ferguson Tree, at 132.6 metres (435 ft), found in the Watts River region of Victoria in 1871 or 1872.