Please meet Tuleo! He is one of the many pitbulls that I have had the pleasure of photographing at the shelter, but this one is very special!
Tuleo is a variation of the word Túlélő which means survivor in Hungarian. And a survivor, he definitely is!
He was found at the edge of a forest in a state of near starvation (see image below). He was so weak that when he saw the animal control people, he made a few steps in their direction as if realizing they were his last chance, then crumpled to the ground.
They brought him to the shelter, fed him, warmed him up, and made an appointment with the vet. He had pneumonia, but otherwise he was fine.
Two weeks later I made a shooting with him and I was amazed at his speedy recovery. Photographing him was far from easy because he was all over my sister and I to play, to get petted, to cuddle and to give us big wet kisses!
He has been made Pet of the Week for the second time in a row at the shelter in an effort to find him his well-deserved forever home.
Cities around here and people still have a prejudice against pitbulls, which is very sad, because they make wonderful pets when they have good owners.
Nikon D7000, Nikkor AF 50mm f/1.8D
Focal length 50mm, ISO-400, 1/60 sec. @ f/4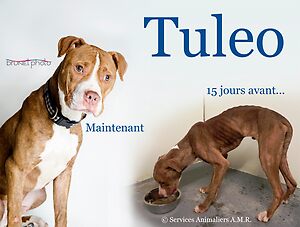 (A little oversharpened because it was originally intended for Facebook. The shot on the right was made by one of the shelter's employee upon the dog's arrival)
Featured in Paws N Claws on April 25, 2011
Featured in Charity for Animals on April 27, 2011
Featured in the Cute Mutts Group on May 18, 2011
Featured in the group APBT (American Pit Bull Terrier) lovers on June 10, 2011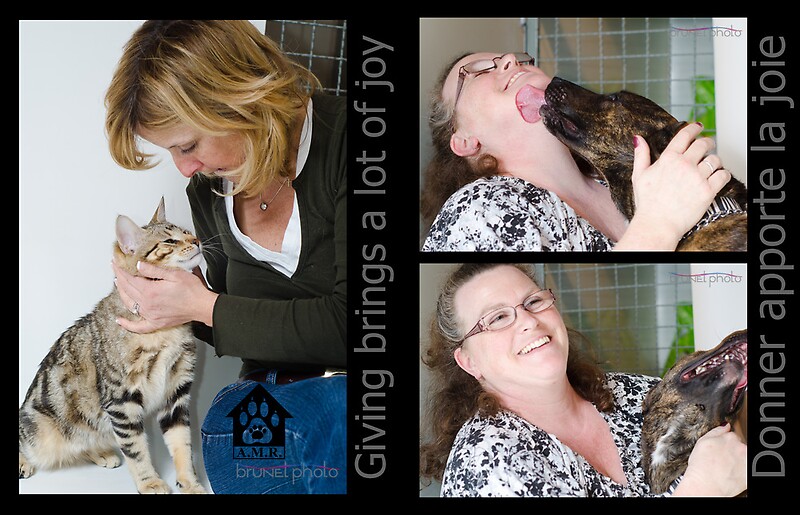 All proceeds from the sales of this work will be donated to A.M.R. Animal Services and Boutique (sorry, French only)
However, their Facebook page is bilingual, and even mostly English, please click here to visit