An eternal wanderer…
Excerpt from Spirits of the Dead
Thy soul shall find itself alone
'Mid dark thoughts of the grey tomb-stone;
Not one, of all the crowd, to pry
Into thine hour of secrecy.
[…]
The breeze, the breath of God, is still,
And the mist upon the hill
Shadowy, shadowy, yet unbroken,
Is a symbol and a token.
How it hangs upon the trees,
A mystery of mysteries !
— Edgar Allan Poe
The original shot was made on a very foggy morning with my Nikon D60 and 18-55mm lens.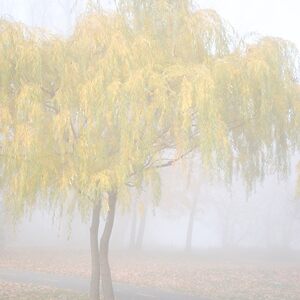 After converting to black and white and tweaking curves and contrasts a bit in Photoshop CS4, I added two textures of mine plus a blurry image of my niece in a period dress.
Grunge 1
Melamine Mahogany, desaturated
Featured in the group Before and After on November 21, 2010