(Best viewed large)
Testing my new Tamron lens.
On the night that I bought this lens, I saw a Small Magpie moth (Eurrhypara hortulata) on the ceiling. I had to stand on a one-step stepstool, holding the camera at arm's length to get closer to the ceiling for this shot. I composed and focused approximately, trying to see something in the faraway viewfinder.
The image was really bland, but I did like the colours and patterns of the moth, so I decided to make it a composite, using my textures Concrete and Bolts and Concrete Wall with Vignette with the original shot below. Please click to enlarge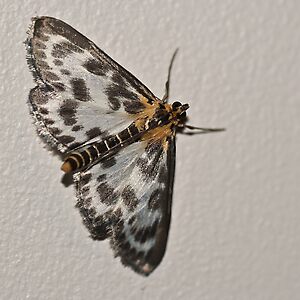 Focal length 90mm
ISO-200
Aperture f/9
Shutter 1/60 sec.
Nikon D60
Tamron SP AF90mm F/2.8 Di Macro 1:1 (272E)
Shot in manual mode, with camera built-in flash covered in a hurry with a facial tissue to diffuse.
Processed in Lightroom 2.7 and Photoshop CS4.
Featured in If It Doesn't Belong on June 17, 2010