My younger son Phillip is throwing his first party in a few weeks, and his older brother, Jonathan, will be taking care of the music.
I made this image to use as a basis for a poster advertising the fact that DJ ??? (name to confirm) will be there.
This is my starting photo of Jonathan made with my Nikon D60 and processed in Camera Raw and Photoshop CS4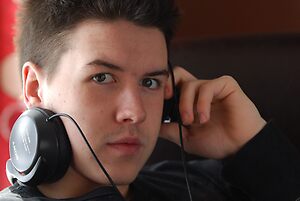 I used three textures of mine, two that can be found in my DeviantArt account (click for link)


The other one is a composite of an inverted smoke image.
Here are the settings used in Camera Raw and Photoshop to achieve this effect (click to enlarge)