The little Star Fairy is very busy illuminating the park to create the magic of Christmas. Darkness comes very early in the winter, but the beautiful glittering trees will light up the night and will make the children's eyes sparkle with joy and wonder.

How it was made
During my recent midnight walk in the park, I set my camera on a tripod and made two shots of the illuminated trees around which unfolds the circular skating rink. One shot in focus and the other completely out of focus for the bokeh.
In Photoshop, I combined the two images in overlay, adding a few adjustment layers, several sparkle and glitter brushes and a stock image of a child. I omitted the concrete texture in this version, but added a very thin overall veil of light and a little blur to add softness.
Brushes from here , here and here
Little girl
Here are the two photos I made of the park, in and out of focus (Parc de la Promenade, Candiac, Quebec, Canada)

Featured in:
Live, Love, Dream on December 20, 2009
The Woman Photographer on December 22, 2009
Altered by Design on December 25, 2009
Before and After on December 26, 2009
The Love of Eerie and Enchanting Artwork on January 9, 2010
Permanent Feature in Art Universe on November 17, 2011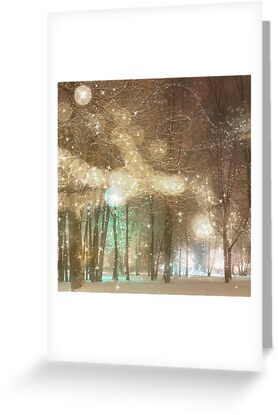 Viewed 930 times on November 14, 2011