Nikon D60, Nikon VR 18-200mm lens
Bracebridge, Ontario CANADA
Muskoka river
Between August 30th and September 15th 2010
Fall is my favourite time of year, and benches one of my favourite places to witness the seasons change! This bench called to me, come and sit a spell!
The District of Muskoka, extends into central Ontario from Georgian Bay in the west to Lake Couchiching in the south, and to the western border of Algonquin Park in the east, spanning 2500 miles. Muskoka encompasses Lake of Bays township, Georgian Bay township, Muskoka Lakes township and the larger towns of Huntsville, Bracebridge and Gravenhurst. It is a favourite tourist and resort destination boasting 1600 lakes within its perimeter, and it commonly referred to as "Cottage Country". Many international celebrities have built their summer homes in the Muskoka area.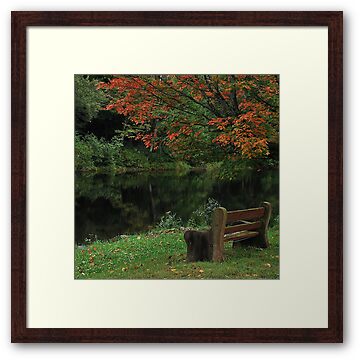 Top ten placement in the Seasons Natures Palette. A Tree and a Seat challenge May 2013
Featured in Seasons! Nature's Palette May 2013
Top ten placement in the Benches, Benches in Autumn challenge december 2012
Top ten placement in theJPG Cast-Offs, Bench challenge May 2011
Top ten placement in the Benches group challenge Location, Location, Location October 2010
Top ten placement in the Trees and Seats challenge for the Trees group October 2010