An old door slightly ajar but unable to be opened due to the build up of sand over many years. Photographed by crawling around in the sand on my hands and knees in an old abandoned house at Kolmanscop, an old ghost diamond mining town in Namibia. Canon EOS 5D Mark II, Canon 35-70mm lens. CLICK ON PIC TO VIEW LARGE.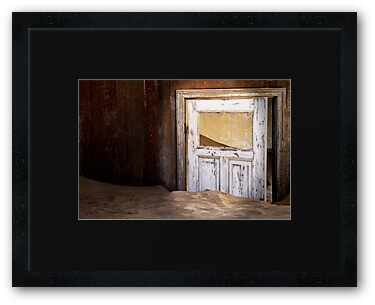 Kolmanscop is an old diamond mining ghost town which was established in Southern Namibia, Africa in 1908. In 1908, the black African worker Zacharias Lewala found a diamond while working in this area and showed it to his supervisor, the German railroad inspector August Stauch. After realizing that this area is rich of diamonds, many German miners settled in this area and soon after the German government declared a large area as a "Sperrgebiet", starting to exploit the diamond field.
Driven by the enormous wealth of the first diamond miners, the residents built the village in the architectural style of a German town, with amenities and institutions including a hospital, ballroom, power station, school, skittle-alley, theater and sport-hall, casino, ice factory and the first x-ray-station in the southern hemisphere as well as the first tram in Africa. It had a railway link to Lüderitz..
The town declined after World War I when the diamond-field slowly exhausted and was ultimately abandoned in 1954. The geological forces of the desert mean that people now walk through houses knee-deep in sand. A very challenging place to photograph!