Gomez Mill by Yani ( please view large )
Location: Newburgh > New York > USA
Camera: Nikon D200
Lens: Nikkor 24-70mm /2.8
Filter: UV
Tripod: Yes
Exposure : Aperture priority,
f/16, Shutter 1/3 sec. ISO 400
Bracketing : -2,-1,0,2 > Photomatix Pro
PP in Photoshop and Color Efex Pro
.



.
FEATURED in The Weekend Photographer JUNE 07 10
FEATURED in All About New York State JUNE 09 10
FEATURED in Take Me Higher (Dynamic Range) JUNE 09 10
FEATURED in Unique Buildings Of The World JUNE 09 10
FEATURED in Your Country's Best JUNE 10 10
FEATURED in Beach, River and Lake Treasures JUNE 11 10
FEATURED in BARNS & Old Grist Mills and Covered Bridges from around the World! JUNE 26 10
FEATURED in #1 Artists of RedBubble JULY 08 10
FEATURED in Cottage Living MARCH 22 11
FEATURED in Image WritingJULY 2011
FEATURED in Quality Textures, HDR & Photo Manipulation JULY 2011
FEATURED in The Beautiful East Coast (USA) JULY 2011
FEATURED in HDRI AUG 2011
FEATURED in Old Things Are Vintage (1960 0r Older) AUG 2011
FEATURED in A Building somewhere MAY 2012
FEATUREd in Country Bumpkin MAY 2013
TOP 10 in Beach, River and Lake Treasures – your choice in July 2010 challenge JULY 28 10 2nd place
1429+ views as of 06 11 10
52+ favorites as of 06 11 10
.
Thank you very much to all who view and comment
.
Dard Hunter, handmade paper maker built mill on property on the creek in the shape of a "Devonshire cottage" complete with a thatched roof to make paper in 1913.
Students from all over the world came to learn from him as he made paper by hand, cut and cast type and handprinted his own books.
Preserved as an historic site by Gomez Foundation.
The Gomez Foundation for Mill House has restored Hunter's Mill and completed in 1997 the mill dam and bridge.
Board members are descendants of original owners.
.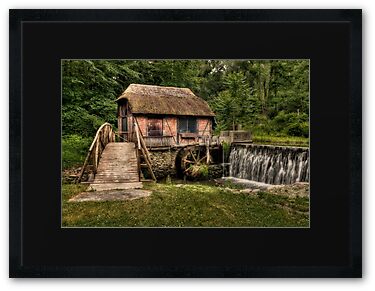 .