Camera: Nikon D300
Lens: Nikkor Micro 105mm f/2.8 G ED AF S
Filters: UV
Tripod: Yes
Exposure:
Aperture Priority, f/11, shutter: 1/4 Sec.ISO 200
PP in Nikon Capture NX2 & Photoshop CS5
.

.
WINNER in Creative Cards & Calendars – A Single Flower challenge NOV 21 10
WINNER in The Designer Corner – Your Favorite Design challenge OCT 10
WINNER in _Flower Works – Manipulated Photographs Only
_ FEB 12 11
.
FEATURED in The Designers Corner SEP 28 10
FEATURED in CHALLENGE WINNERS VAULT MARCH 12 11
*668+ views as of 11 30 10
*31+ views as of 11 30 10
.
Thank you very much to all who view and comment
.
.
Always On My Mind
Maybe I didn't love you
Quite as often as I could have
And maybe I didn't treat you
Quite as good as I should have
If I made you feel second best
Girl, I'm sorry I was blind
But you were always on my mind
You were always on my mind
Maybe I didn't hold you
All those lonely, lonely times
And I guess I never told you
I'm so happy that you're mine
Little things I should have said and done
I just never took the time
You were always on my mind
You were always on my mind
Tell me
Tell me that your sweet love hasn't died
Give me
Give me one more chance to keep you satisfied
I'll keep you satisfied
~ Willie Nelson ~
.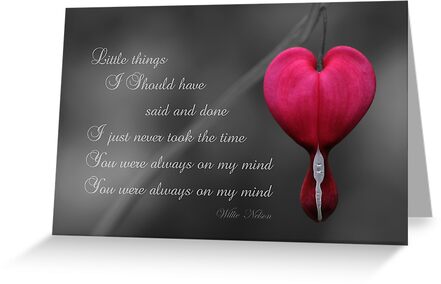 .